Woobox is proud to announce that you can now unlock the power of Facebook advertising like never before, directly from your Woobox dashboard! Whether you are promoting a timeline post or getting the word out about a contest or sweepstakes app, our Facebook ad platform allows you to target just your fans, create and save a target audience based on interests, or upload data to create a custom audience. Simple campaigns can be created with just a few mouse clicks. Best of all, we don't charge anything for our service – your ad dollars go straight to Facebook, just as they would if you created your ad directly through them!
Login to your dashboard and click on the "Ads" link to get started: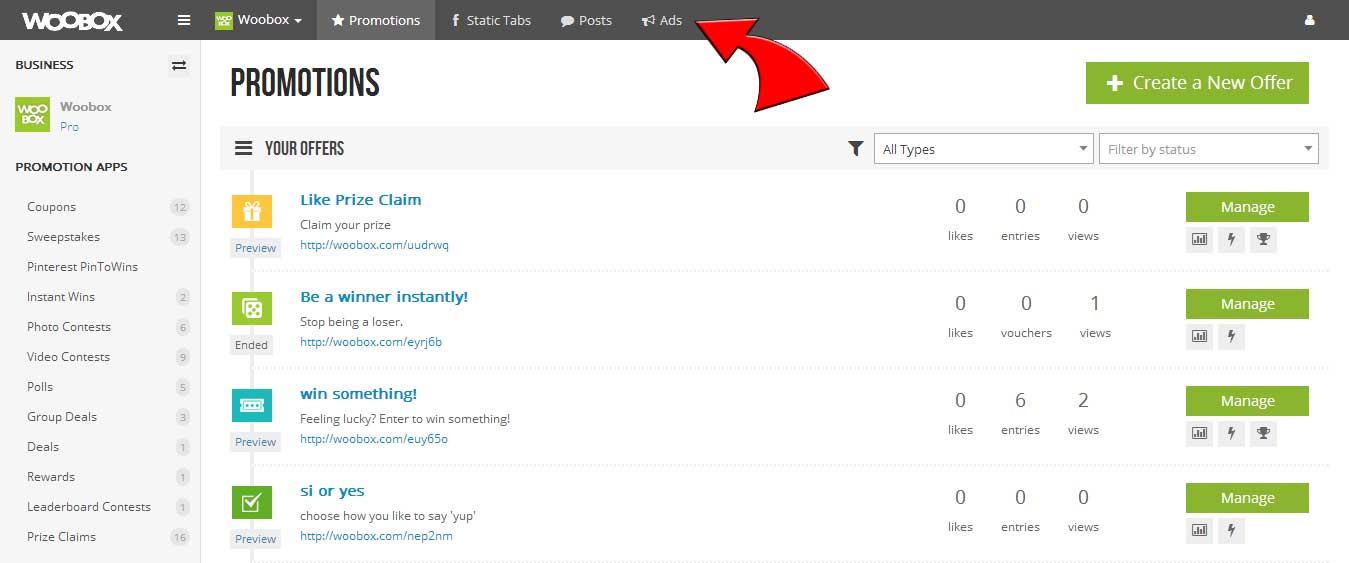 Once you arrive on the Ads page you will see a list of current and past ads that you have placed through Woobox. If you haven't placed an ad yet, click on "Create a New Ad" button in the top right corner, or the "Create Ad" link in the column to the left:

When you click on the link, you will be given the choice to create an ad from an offer (i.e. an active coupon, sweepstakes, et al campaign) or create an ad from a post on your timeline:

How to Create a Promoted Post Using Woobox
If you are making a big announcement that you want to reach as many of your fans as possible, then the best way to do it is via a Promoted Post. Promoted Posts are quick and easy, and take only a few clicks to launch. Click on the option to create a new ad from a post, and you will see a list of your posts that are available to promote: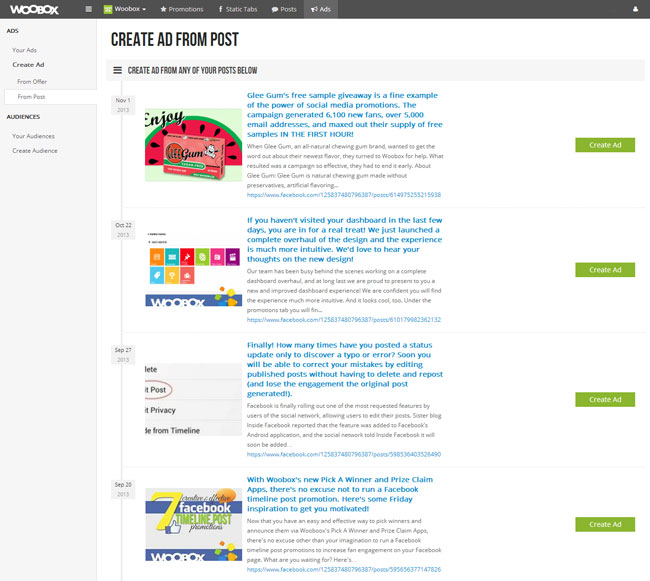 Then you simply click on "Create Ad" to:
Select a start and end date
Input your ad spend limit
Specify if it's a daily spend limit or campaign total budget
Select your target audience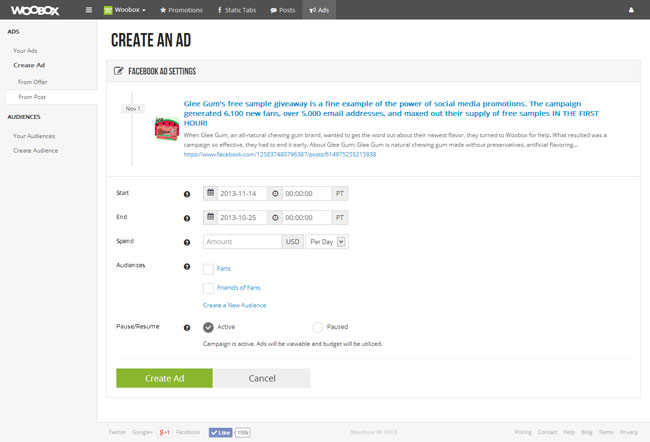 The default audiences are "Fans" and "Friends of Fans". Many page admins promote their posts primarily to reach their existing fans so you can simply check that box and launch your campaign by clicking "Create Ad".
You can also create a target audience that can be saved for future re-targeting – we will describe in greater detail how to do that later, but for now let's look at how to promote a coupon, contest, sweepstakes, or any other Woobox promotional app.
How To Create an Ad to Promote an Offer
If you want to advertise your contest, coupon, sweepstakes, poll, etc., you can easily accomplish this by creating an ad directly from your dashboard. Follow the first two steps in creating a Promoted Post, but select the "Create a New Ad From An Offer" option instead. This will take you to your list of offers where you can choose the offer you want to promote: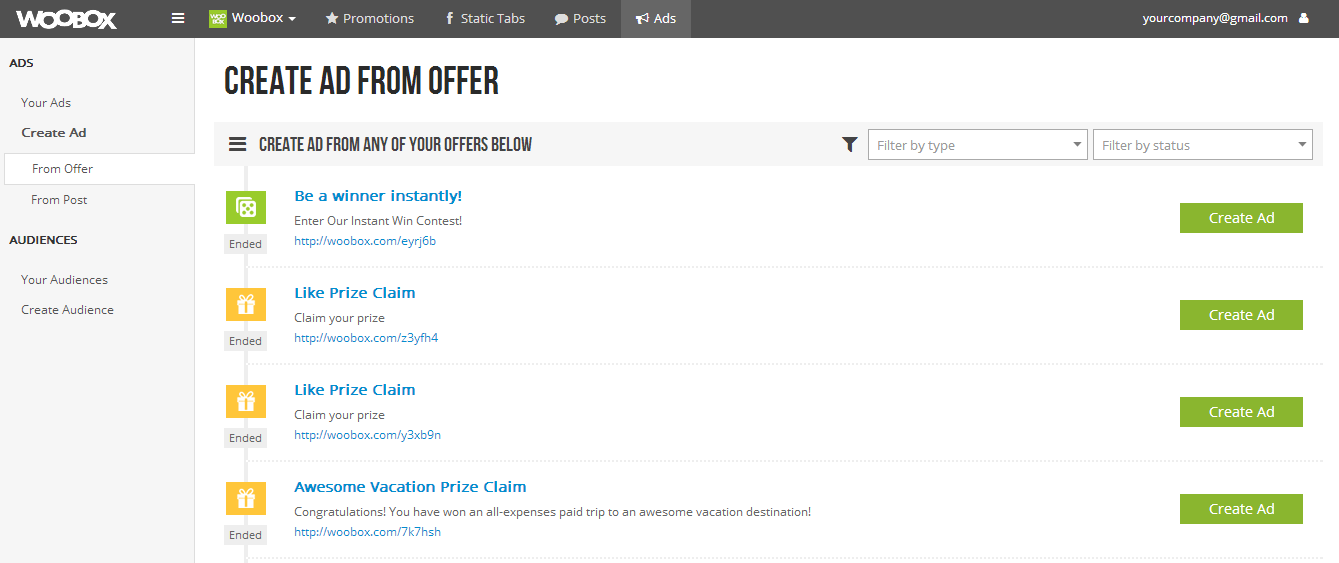 Select "Create Ad" from the offer you want to advertise. You will notice there are a few more options available for promoting an offer: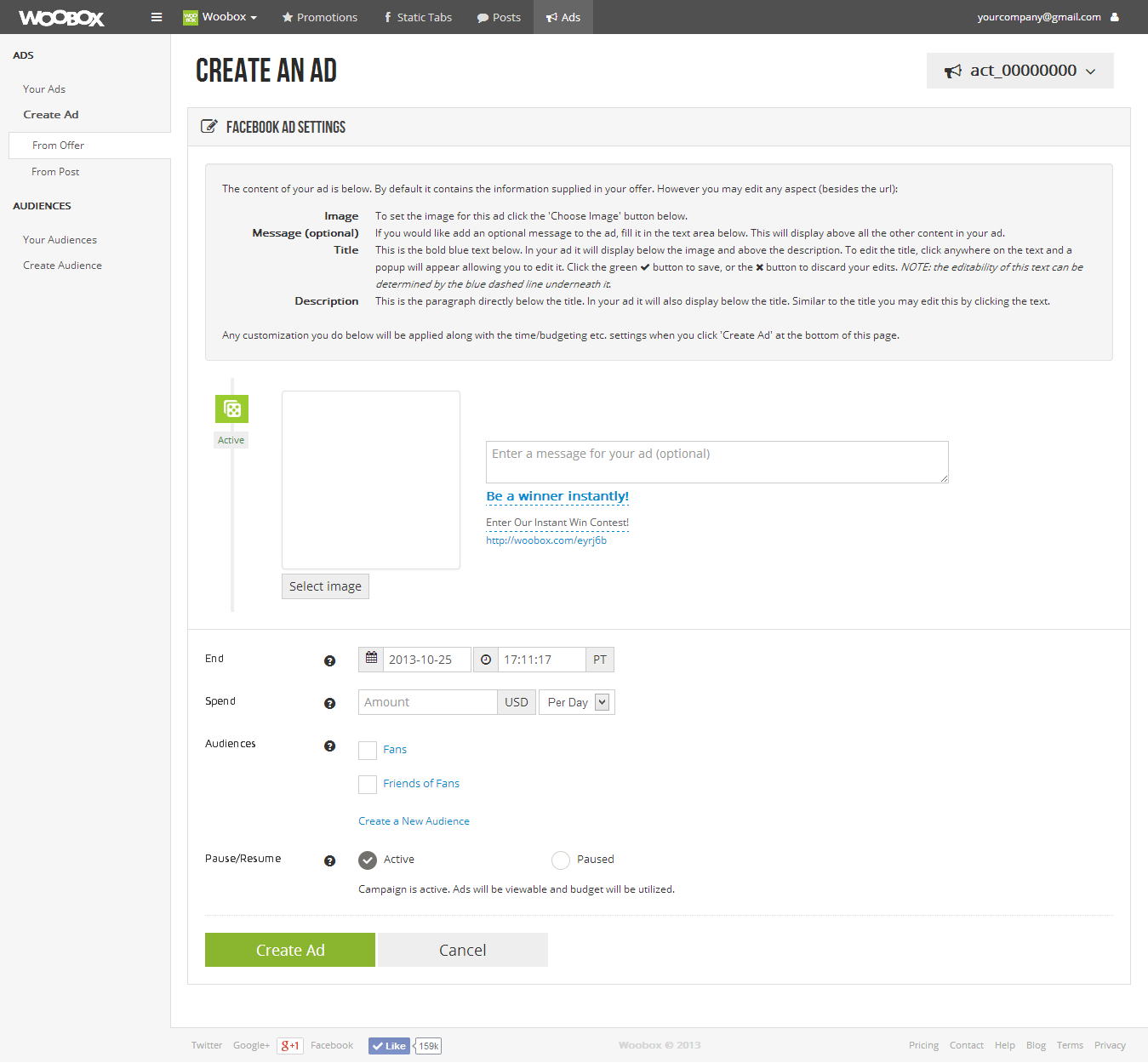 By default, your ad will contain the information supplied in your offer. However, you may edit and customize any aspect of how it is displayed (besides the url):
Image: You can upload a custom image for your ad by selecting "Choose Image" and uploading a file from your computer.
Message: If you would like add an optional message to the ad, simply type your message in the text area. This will display above all the other content in your ad.
Title: You can change the title (the blue bolded text) by clicking on it. An edit field will popup and allow you to make changes. Click the green check to save it or the black 'x' to discard your changes. NOTE: the editability of this text can be determined by the blue dashed line underneath it.
Description: This is the paragraph directly below the title. In your ad it will also display below the title. You may edit this by clicking the text.
After you have customized the look and feel of your ad, you can then set the start and end dates, total (or daily) ad spend, who you want to reach, and then click on "Create Ad" to launch your campaign. It's a simple as that!
Create and Save Target Audiences with Woobox
You may have noticed while walking through this process that there is an option to create a new audience on the Create Audience page (for both Promoted Posts and Offer Ads). This is where the power of Woobox's ad platform really shines. By clicking on "Create a New Audience" in the form field section or "Create Audience" in the navigation tools on the left of the page, you can create target audiences based on their demographics and interests, and SAVE THEM for future re-targeting: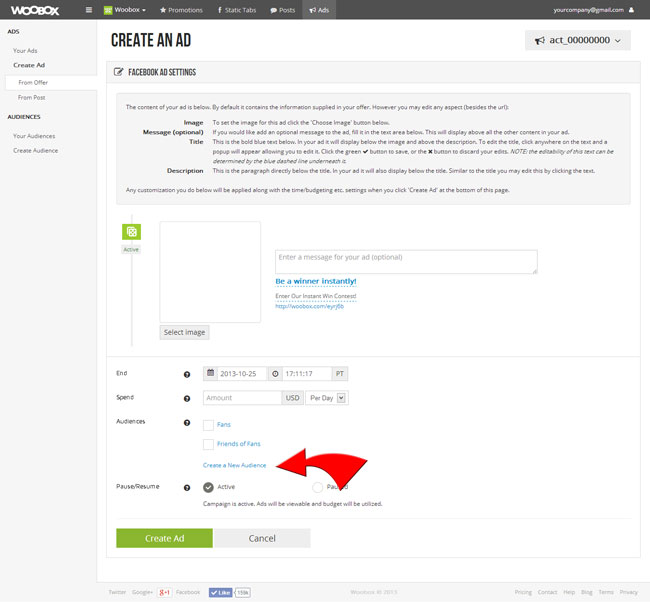 The "Create Audience" page makes it simple to create a targeted audience for your offer: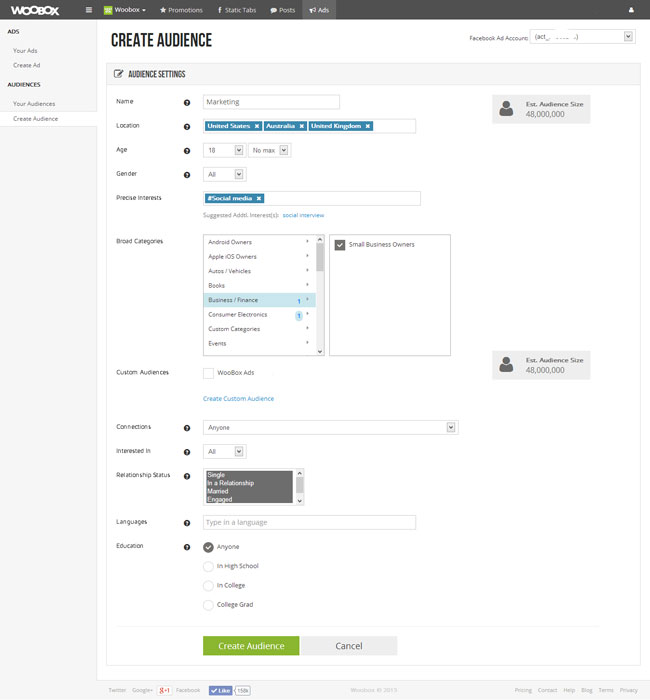 The first step in creating a target audience is to name the audience. If you do not name your audience, then the Estimated Audience Size will not be calculated. From there you can start layering in all the different elements that will make up your audience:
Location: You can enter as many or as few countries as you would like. If you select just one country, you can then get even more location-specific by selecting the state and city:

Age: Woobox's platform allows you to select an exact age range between 13 and 64.
Gender: Target just men, just women, or both.
Precise Interests: If you want to get very precise with your target audience's interests, you can type them into the field and exact matches or suggested matches will appear. For instance, if you type in "Pizza", the system will provide options related to pizza (like specific pizza chains), and offer suggested search terms related to pizza, such as buffalo wings and calzones:

Broad Categories: If you want a broader target audience, you can choose from a list of broad category options, most of which are broken down into subcategories to allow for additional targeting:

Connections: In the connections pull-down, you can specify how your target audience is connected to your brand. You can limit it to fans, broaden it to friends of fans, or expose your ad to anyone who fits your profile.
Interested In: You can target your ad to Facebook users who have indicated that they are interested in Men or Women or All.
Relationship Status: You can limit your exposure to people with a specific relationship status, or include all statuses.
Language: Specify only certain languages you want your ad to reach, or leave it open to all languages.
Education: Target your ad to specific educational levels or include all.
When you click on the Create Audience button, your custom audience will now appear in your audience list for future use: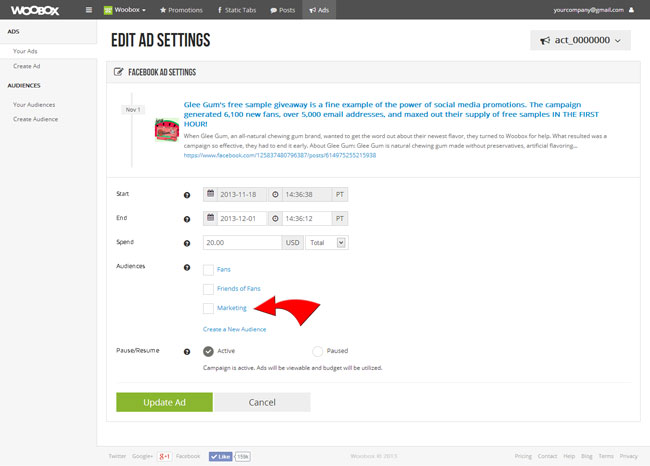 But Wait, There's More!
There's one more link you may have noticed when setting up your audience, and that's the "Create Custom Audience" link on the "Create Audience" page: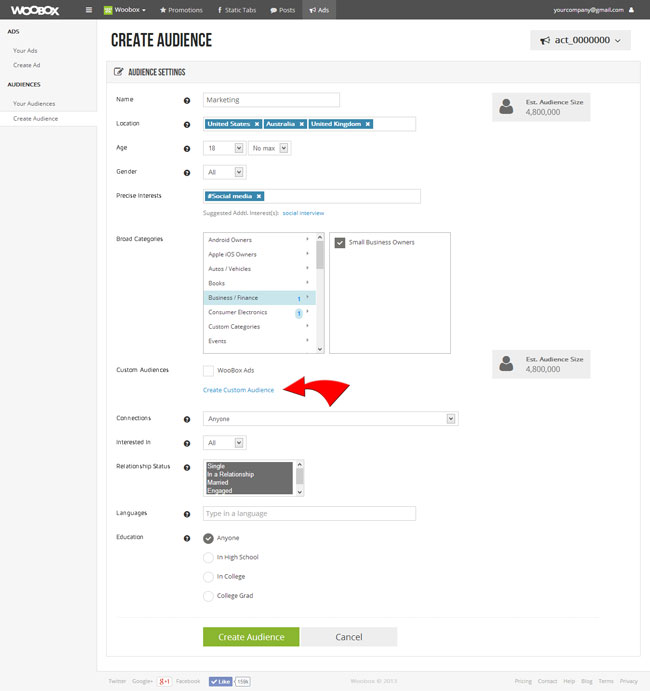 When you click on the "Create Custom Audience" link it will ask you to:
Name your custom audience
Provide a brief description
Select the custom audience source (email, Facebook User IDs, Phone Numbers, and App User IDs)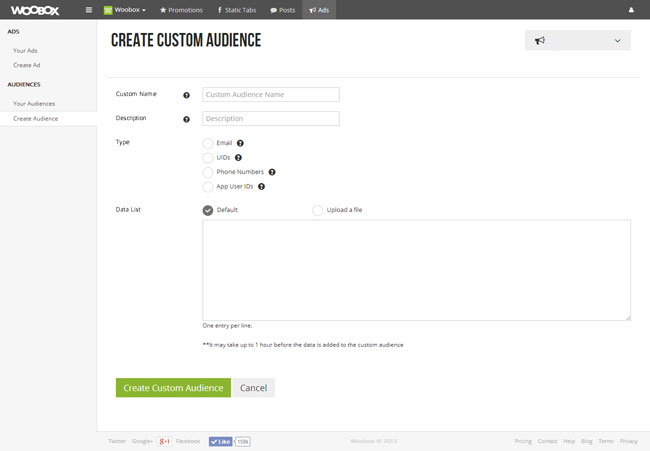 Target Past Promotional Entrants 
If you have run a promotion in the past, you can access the list of fans who participated in the event by downloading the data for that promotion. To do that, go to the Entries tab of the offer, and click the "export" button to save the file to your computer: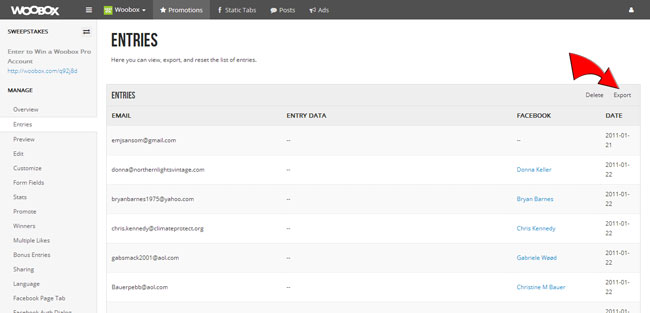 Then upload the file to the Custom Audience page: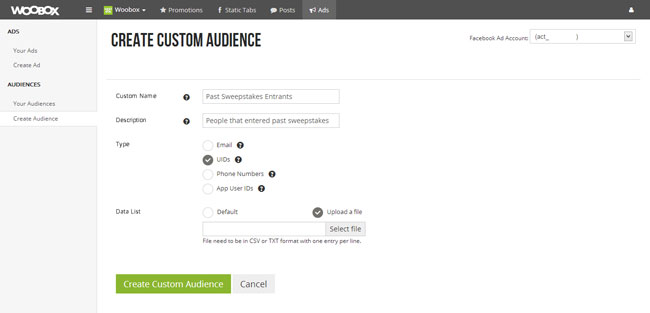 You can combine files to include entrants for all past participants by downloading those files and combining them in Excel, then saving it as a .csv file and upload to the Custom Audience page.
Truly Custom Target Audiences
Now, if that weren't slick enough, imagine you have a large email database or collection of customer phone numbers, you can either upload a .csv file of that list or enter the contacts manually, and as long as the emails and/or phone numbers are tied to a Facebook account, you can create a custom audience for just that group! This type of custom audience is perfect if your company holds an event and collect emails as part of the sign-in: you can input those attendees into the Custom Audience field and create an ad targeted to just those attendees. The power of this tool is evident when you want to re-target that population for a follow-up seminar or offer that is related to that event.
NOTE: You will not have access to those attendees Facebook User ID's, as that information is covered by Facebook's privacy policy. But, you can create a Custom Audience that will allow you to target an ad to them using Facebook's ad platform through the Woobox dashboard.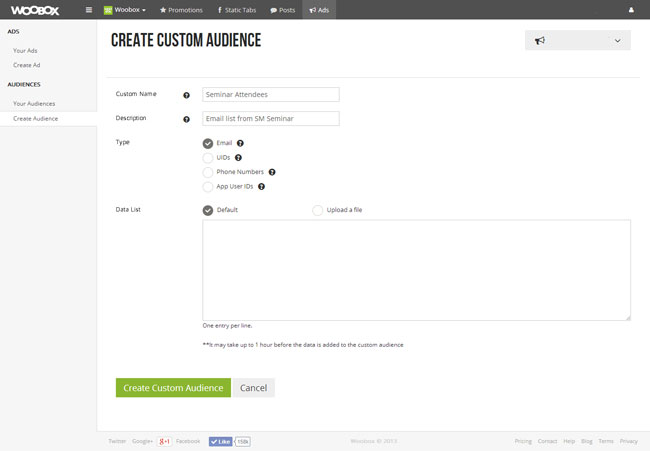 Edit Your Ad and View Your Ad Stats
After your campaign has launched, it will appear in your Ads dashboard and you can keep track of the ad's performance by clicking on the View Stats link and Edit the ad to make modifications by clicking on the Edit link:

From the edit view you can extend or limit your ad by changing the dates, add to your budget, modify your audience or pause your campaign altogether. Note: You cannot change the creative of your campaign in the edit view if it is created from a post.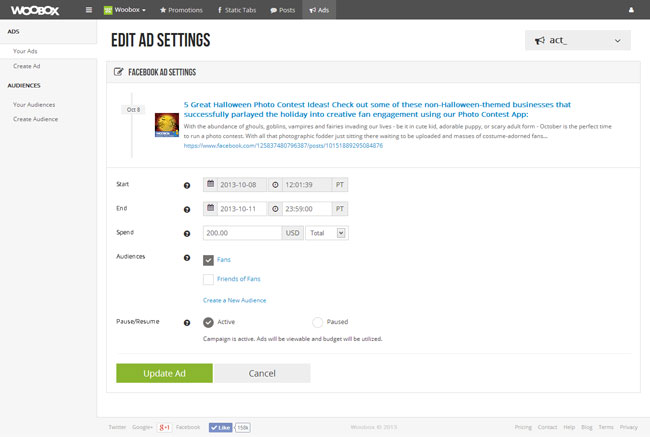 To view your ad stats, click on "View Stats" from your ad panel for the ad you want to analyze. Rather than display a combined total of reach, frequency, clicks and ad spend, you can view the stats by target audience and see who your most engaged target audience is: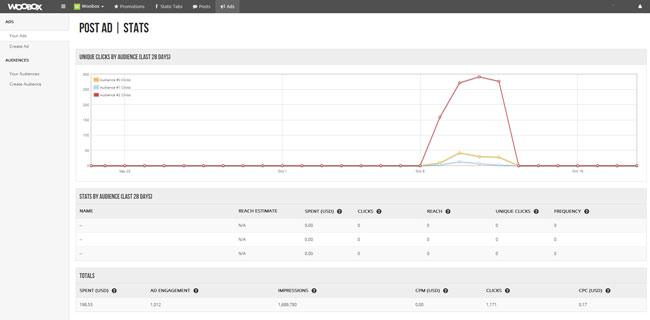 We are excited to see our customers utilize this exciting new free tool to promote their offers and post promotions on Facebook. Let us know how you are using the new Ads Platform!