Is brand loyalty on your holiday wish list for your business? If not, it should be! Whether you are a service provider, product manufacturer, retailer or B2B company, your fans are your fans because they either now or at some point have decided that they want whatever it is that you got. So give it to them! A Sweepstakes is a creative and effective way to engage your customers with rewards that will build the elusive "brand loyalty" we all want for our business.
Need some inspiration? Check out what these Woobox users are doing this holiday season:
Give Them What They Want
Chances are your fans are fans of your page because they like your product or service. This is especially true if you are a niche brand with a loyal fan base. Castle X reminds its fans that the holiday season isn't just about Santa and parties with their Let It Snow Jacket Sweepstakes, it's also about winter sports! The winner even gets to choose between three popular styles.
Give Them What They Don't Want to Buy Themselves
No one really wants new appliances as a gift for the Holidays, yet no one really wants to go out and spend their hard earned money buying such necessities either. But who wouldn't want to win them? The Money Pit is a home improvement radio show, and they want three lucky fans to win a new refrigerator, electric fireplace or a towel warmer – with 5 bonus entries for every share. Awarding bonus entries increases the virility of your campaign tremendously, and is easy to manage through Woobox's sweepstakes app.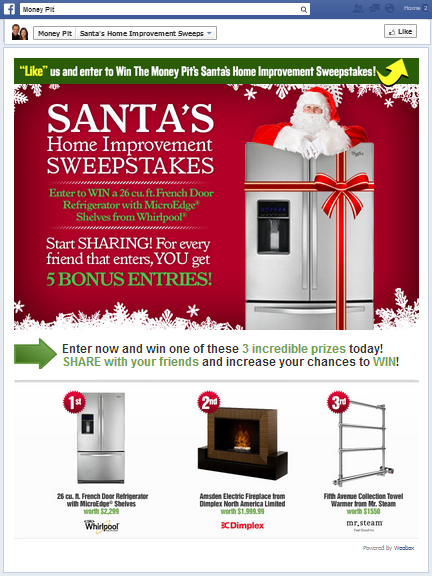 Give Them an Experience
Sometimes the best gift doesn't come in a box, it comes wrapped in laughter shared among family and friends. Providing an experience as a sweepstakes item can be extremely popular – an exclusive event, a behind the scenes tour, or simply a fine dinner with loved ones. Saigon Bay Restaurant's holiday sweepstakes offers a $500 holiday banquet to one lucky winner, incentivizing shares to increase engagement and exposure.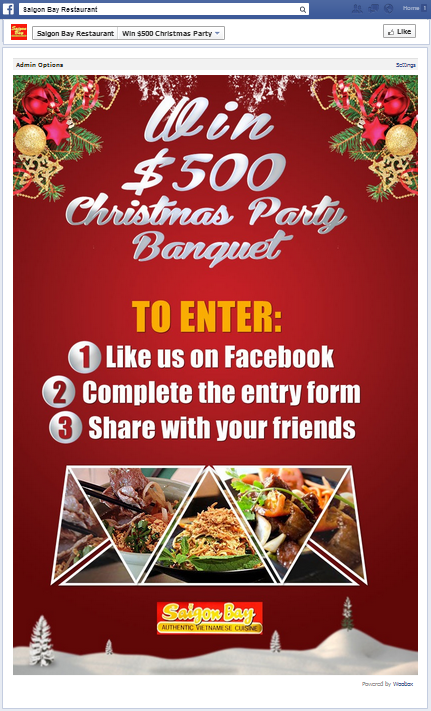 But Make Sure the Offer Fits the Prize
As a general rule, the more info you require from your fans or the higher the barriers are to entry, the fewer entries you will receive. Unless you are giving away a large prize, like a car or elaborate vacation, make it easy for your fans to enter and don't ask more from them than what is reasonable given the prize. When the product you are giving away is under $100, the best way to engage your fans is by making the offer as simple to enter as possible. Cupcake By Design simply asks for an email address – which they can then use for re-marketing via their newsletter or a targeted Facebook ad campaign using our new custom audience tool.
We'd love to hear some of your ideas for how you are promoting your business with sweepstakes this year. Please feel free to share them in the comments section below. And for ideas on how to create custom Facebook advertising audiences for better holiday marketing efficiencies, make sure to check out Woobox's new Ads Manager. Happy Holidays!