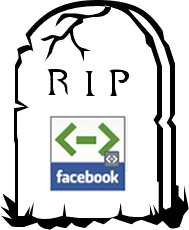 Facebook is removing all Static FBML Page Tabs Wednesday, December 5, 2012.  It's the last chance to move your Static FBML Page tab content to our HTML Page Tab. According to the official report in the Facebook Developer Roadmap:
"On December 5th, we will remove the Static FBML Page app and any Static FBML tabs you had installed on your Page will disappear."
Don't worry, there's really no need to panic, you've probably already made the switch from Static FBML Tabs to some other non-endangered species of custom tab app.   However, for those of you who haven't (or if you're not sure), we would like to provide you with the following FBML Apocalypse Survival Q&A.
What does this even mean?
Facebook is completely removing the Static FBML Page Tab application. Pages still using this technology for their custom tabs will lose those tabs forever, along with the content they house. If you're a Page Admin still using the Static FBML app on your Page(s), you will lose your tab content if you don't take action.
How do I know if I have any Static FBML Tabs on my Page?
At the top of your Facebook Page, click Edit Page and one of the choices such as Update Info.  Next click the Apps section.  Look through your list of apps for any that look like the App below.  You can click on the Edit Settings link to access the current content of your tab to copy it to a new tab such as our replacement tab.

What do I do to save my custom tabs?
Our free Static HTML Tab solution is the most popular page tab app on Facebook and is a great replacement for the Static FBML tab.  It includes that ability to fangate/likegate and will allow you to paste the content you copied from your Static FBML tab settings into its Page Source setting.  You can install the Woobox Static HTML Iframe Tab here.
When is this happening? How long do I have?
Wednesday, December 5th, 2012 is D-Day… As of right now (Friday, Nov. 30), you have less than 5 days to get your affairs in order.
Quick Guide to FBML Apocalypse Survival
Step 1) Identify if your Page(s) still use the Static FBML Page app for your custom tabs.
Step 2) Install your replacement tabs.  Woobox's Static HTML IFRAME Tab app is completely free.
Step 3) Migrate your current Static FBML Tab content to your new IFRAME Tab's Page Source (you can simply copy/paste the HTML from one to the other).
Step 4) Sit back, have a drink, and relax; you're good to go.
If you have more than one FBML tab to migrate, create your Woobox account here: http://woobox.com/signup for free and navigate to the HTML/Fangate Tab section.  That will let you easily create multiple tabs to migrate too.