In the past, Facebook page admins could use the Static FBML app to create custom page tabs.   A couple weeks ago, when Facebook turned off new installs of the Static FBML app we thought it would be a great time to launch an easy and powerful app to add custom page tabs.  We call it our Static IFRAME Tab App.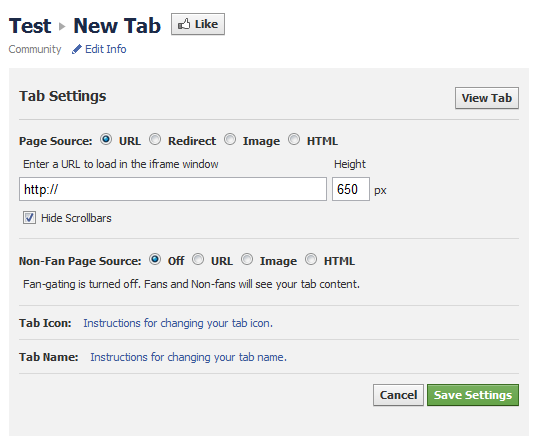 If you've used our apps, you know we're not about to just throw up an html form and call it a day like some others have done.  Nope.  We are very confident this is the best Page tab app you will find.  Here's why…
HTTP/SSL Support – Without SSL support, your users won't see your custom tab if they are using Facebook with HTTPS enabled.
Image Hosting – If you don't have a place to host your images, simply upload them within the app.
Fan-Gating – User must Like your page to reveal content.  You can select content to show to fans and different content to show to non-fans.
HTML/Javascript/CSS Support – No restrictions on the HTML, scripts, and CSS you can upload.  You can even add Google Analytics code to track your page tab visits.
Custom Tab Icons – What would a really awesome page tab app be without the ability to change your icon.
External URLs – If you already have a page hosted somewhere that you want to put in a tab, this is the easiest way.  Simply put in your URL, select a height and decide if you want to use scroll bars.
Totally Free – Our custom tab app is Free.  No restrictions, just Free.  It's just a great way to introduce people to our premium paid Apps.
We hope you enjoy the new app!  If you're ready to try it please Install a Custom Tab or learn more.