There is a new Facebook bug that has changed the behavior of FanGates for the default landing tab.   If you use the Default Landing Tab setting on your Facebook page and show non-fans different content on your tab this bug is affecting you.
Normally, when non-fans visit your Facebook page, they will automatically be sent to the page tab you have set as your Default Landing Tab.  When visitors press your Like button, Facebook would refresh the page and send the user back to the same default landing tab where using a tab app like the Woobox Custom Tab you could show them fan-only content.  The new Facebook bug #19778 breaks this process.  Instead of taking the new fan back to your default landing tab, the user is now sent to your page Wall!
Now the good news.  First, Facebook has responded to the bug saying they are investigating.  Second, we've come up with a work around you don't have to wait for!
Solution: FanGate Bug Workaround
In the Woobox Custom Tab (formally Static IFRAME Tab) you can now enable a special option the will provide the old pre-bug behavior.  Just click Enable and press save settings.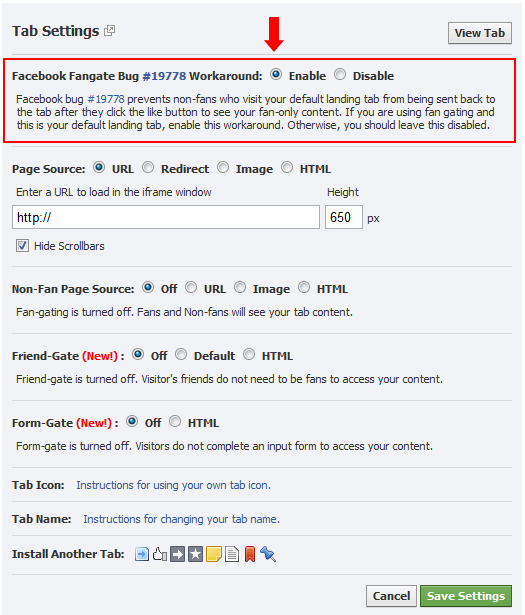 If you aren't using the Free Woobox Custom Tab yet, you can install it here.
You can follow the bug here: http://bugs.developers.facebook.net/show_bug.cgi?id=19778