One of the most wonderful nights of the year is New Year's Eve when we commemorate our previous accomplishments and establish aspirations and objectives for the next year.
New Year's is an ideal time to launch festive marketing efforts since buyers are still in the holiday mood and dreaming about all the exciting things they want to do in the new year.
This New Year's, it's time to create some amazing marketing initiatives that will increase engagement and revenue. However, to ensure you're able to effectively make the most of your New Year's Eve contest, you need to create a campaign that is unique and engaging. There are multiple brands that host these types of competitions and you need to stand out from the lot.
Take a look at these 5 New Year's Eve marketing ideas that will help you begin the New Year with a powerful promotional bang.
Idea 1: New Year, New You
Many of us begin the year with big aspirations. In a 2018 study, over 70% of respondents said that they intended to make a particular resolution. Begin the year by asking your followers about their New Year's resolutions. Then, provide an incentive to encourage individuals to keep their pledges.
Here's an excellent example from the Science Olympiad Foundation, wherein participants had to tell their New Year resolution and 3 lucky winners would get the chance to win exciting prizes. The winners were determined based on the number of likes their comments got.
Idea 2: Start On An Inspirational Note
While parties and resolutions are often associated with the New Year, however, another very important aspect is positivity and inspiration. Leveraging on this, you can host a comment-based giveaway competition by asking participants to create inspiring quotes to start the new year on a positive note. Another way to conduct this is by posting a glittery or festive image of your product and asking participants to 'Caption This'.
Based on the number of likes their comment gets, you can declare winners for exciting prizes. For example, check out Walmart's unique 'Caption This' campaign.
Idea 3: Get Lucky This New Year
It's the most anticipated moment of every New Year's Eve celebration. The clock strikes twelve o'clock, and fireworks explode over the sky. People exchange hugs, kisses, and hold hands while singing traditional songs. You, too, can be a part of that moment with the perfect New Year's Eve marketing.
People adore Instant Win competitions. The concept is simple: you put up some rewards that are ready to be won. All the user needs to do is check if they're lucky enough to win anything. And, what makes this even more interesting is that if the user doesn't win anything in their first try, they can try again after a stipulation time, encouraging your fans to come back again and again!
Anyone with a computer or mobile device with an internet connection is eligible to participate in this kind of contest. As a result, you may give away prizes to your followers during the countdown to midnight, regardless of whether they're at a party or at home.
The benefit of this is that running a seasonal giveaway can help you please your current consumers while also attracting new prospects. For example, fitness-related businesses often organize giveaways with rewards connected to their target audiences' New Year's goals. For example, Gold's Gym held a promotion in which participants could win gym memberships and personal training sessions.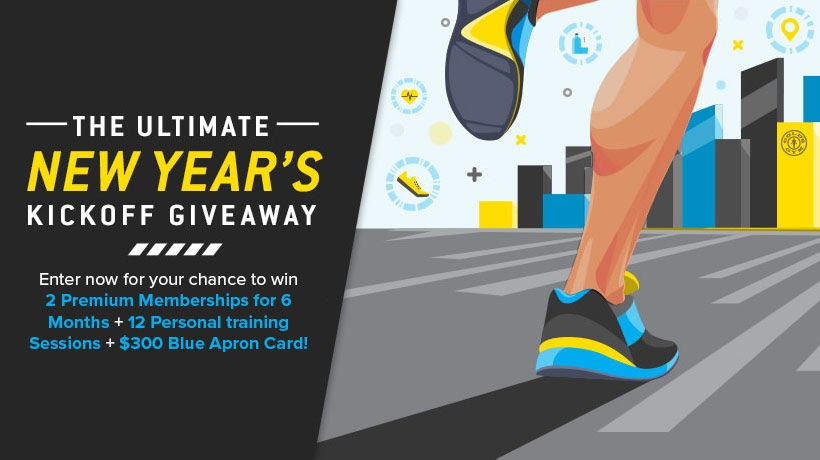 Idea 4: New Year Party
While we may pledge to get more sleep and take better care of ourselves on January 1st… The 31st of December is a time to celebrate! So, why not plan or sponsor a New Year's Eve celebration? Alternatively, if you want to keep your New Year's Eve promotions limited, give away a couple of pairs of event tickets.
Throwing a New Year's Eve party is a terrific method for companies with physical locations to entice more visitors through their doors. However, if you want your party to be a success, make sure to promote it aggressively.
While you may believe that New Year's Eve celebrations are just for bars and restaurants, retail stores can also organise exciting New Year's Eve parties—and you don't even have to remain open until midnight. Simply invite your customers to a free New Year's Eve in-store event.
Throwing a holiday party is an excellent chance to interact with your clients in person and strengthen your relationship with them.
To gather people's contact information and choose a winner, use a basic registration form. If you want to expand your web audience, you can consider hosting a contest. It works just like a traditional giveaway, except that every time a participant refers a friend to your New Year's Eve promotions, they get an additional entry into the prize draw.
You may even design the contest such that participants must make a certain amount of recommendations in order to compete. At the end of the contest, you choose a lucky winner who gets tickets to your New Years' bash! Here's an example from a prominent Amsterdam club that applied this tactic to ensure they benefited the most from their New Year's party.
Idea 5: Discount Campaign
Of course, everyone likes a good deal, so why not host a fantastic New Year's Eve promotion? Promotions that are related to New Year's festivities perform the best at this time of year. Fashion and cosmetics industries, for example, may offer discounts on their most dazzling products to assist partygoers ring in the New Year in style.
You may, however, connect your campaign to New Year's even if your product or service has nothing to do with the celebration. For example, in their New Year's campaign, Proactiv, an acne treatment firm, uses the phrase "January is for new beginnings" and offers a lucrative offer.
Don't forget to build urgency with countdown clocks, use urgent language like "limited time only" and "don't miss out," and create FOMO with user-generated material in your New Year's promos. Customers hurry to the checkout when there is a sense of urgency, which can help you increase sales.
Conclusion
Prepare to ring in the New Year with a bang! With these holiday marketing strategies, your company may tie up loose ends from the previous year and put itself up for success in 2022.
However, it is critical to be original and as one-of-a-kind as possible. Consider how you may use these gift ideas to complement your brand and interact with customers in your niche. Having said that, designing an effective giveaway is not always simple. But don't be concerned! You can quickly create Giveaways, Sweepstakes, Photo Contests, and many other types of contests utilizing Woobox's sophisticated capabilities.
So, are you looking to take your social media game to the next level by hosting an engaging giveaway contest this holiday season? Woobox is here to help! Our support team is available from 9 am to 5 pm PST from Monday to Friday at 1-360-450-5200 and support@woobox.com.