Instagram has one of the highest engagement rates of all social platforms, making it useful for all types of brands, from SaaS to ecommerce. Unfortunately, due to constant changes and updates, many brands find it challenging to stay on top of the latest Instagram trends. With fall just getting started, now is a great time to review some of the most recent changes.
Here are a few recent Instagram trends and updates brands need to be aware of before diving into building a fall Instagram strategy.
Meme-ageddon: In July, Instagram shut down dozens of accounts that posted predominantly meme-based content. They claimed it was due to multiple violations of Instagram policies. What does this mean for you? Make sure you follow Instagram's terms and conditions, and you will be fine.
Instagram posts (and IGTV) can now be scheduled: Previously, brands had to use a third-party tool to schedule posts, but now that can be done using Creator Studio. What does this mean for you? You can now schedule posts easier than ever before!
TiKtok-inspired "Clips" feature is being tested: This feature will allow users to post small segments of videos within Instagram Stories. What does this trend mean for you? For now, nothing. But, keep an eye open for this to be released. And start considering how your brand might use this feature.
Ready to increase Instagram engagement through fall-related content? Here is how to do it.
Create a Fall-Inspired Instagram Feed
Fall is in the air! Cooler weather and the upcoming holidays represent plenty of opportunities for brands to stay relevant and create fun fall-related Instagram content.
Here are a few ideas to inspire your brand's fall Instagram feed:
Use fall filters, such as Preview Apps' fall filters, which give photos a warm and soft feel that looks great with autumn colors like orange and brown. Instagram's own Amaro filter is a good choice, as well.
Natural photos often do well on Instagram, so look for beautiful fall foliage, sunsets, and fall flowers. Product-related brands can use natural settings to show off fall-related products such as fall fashion or items related to cooler weather.
Fall recipes and sweet treats are an easy way to publish fall content. Post a photo of fall donuts for your staff meeting, warm fall-flavored coffee drinks, or hearty soups. (If it makes sense for your brand, of course. An ecommerce site might post a photo of chili bubbling in one of their pots, for example.)
Fall fashion posts are also quite popular. For ecommerce brands, this one is easy; simply put together a shoot of cool fall outfits. For service-based brands, consider posting photos of your staff members in their fall fashion or bundled up for cooler weather on the job.
To increase the reach of your fall Instagram posts, make use of fall-inspired hashtags when appropriate, including #fall, #autumn, #autumnvibes, #fallcolors, #fallfashion, and holiday-related tags such as #halloween.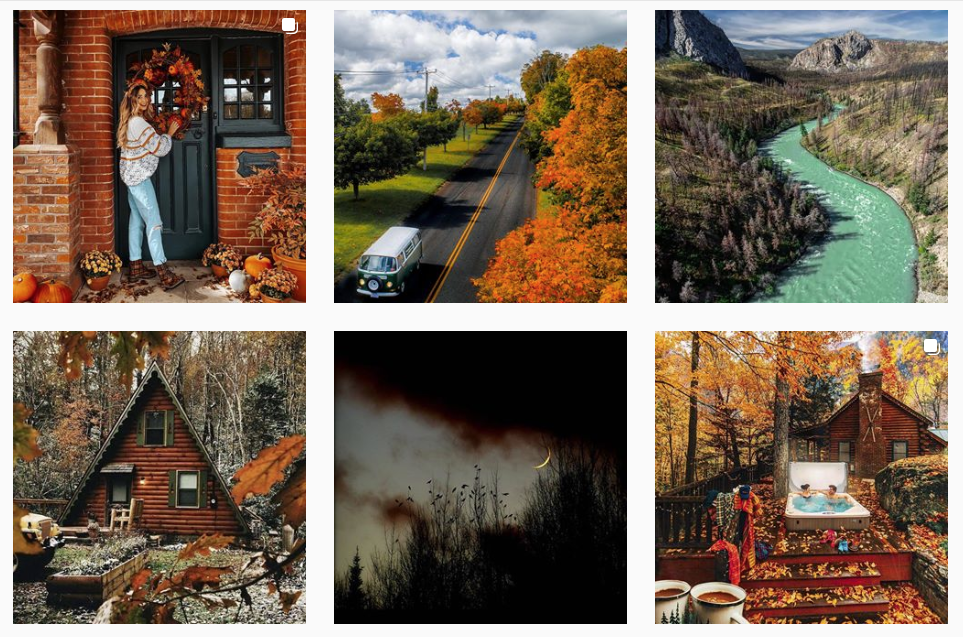 Fall-Related User Generated Content
User-generated content is powerful because users trust content posted by other people more than brand-posted content. A study by Nielsen found that 66% of people trust consumer opinions posted online—making it the third-most-trusted type of content.
To encourage fall-related user content, take a page from the Starbucks' marketing team and their annual pumpkin spice latte campaign, which gets thousands of online mentions every year.
While your brand might not have the reach of Starbucks, you can still use those #fallvibes to encourage user-generated content. Here are a few ideas:
Ask about customer's favorite fall tradition, for example, fall festivals, pumpkin carving contests, or apple picking. Ask them to share on their Instagram feed using a branded hashtag.
Ask for advice about new products, scents, or experiences. For example, do people prefer pumpkin spice, cinnamon, or apples? Which of your products is a must-have for fall? Ask outright, or post a poll on your Stories.
What books are your audience members curling up with this fall? Why do they love it? (Relate to your brand if possible, for example, business or cooking books, whatever is relevant!)
Ask followers to share their favorite fall recipes, even better if you can relate it to your brand or a product you carry.
User-generated content is most effective when it is related to your brand. For example, a fashion brand asking followers to share their favorite piece from their new fall line. However, any type of engagement has benefits, so don't be afraid to start conversations. Ask followers to tag your brand name for regramming, and share posts that resonate.
Post Your Fall-Inspired Instagram Stories
Instagram stories remain powerful, in fact, the platform currently boasts 500 million daily Instagram Story users. Stories work best when they tell as a story (go figure!), so aim to post related content,  such as several pictures of your Staff having fun a fall festival. Think of each photo as a page in a book or a slide in a presentation deck, with each new post building on the one before.
Here are a few fall Instagram story ideas:
Favorite fall-inspired outfits
An album of office decorations for fall or Halloween
Your staff in their Halloween costumes
Promote new blog content using fall-themed stickers and GIFs
Poll followers about their favorite part of fall
Share tips for success in the coming holiday season (Particularly if your brand is B2B)
Remember that success on social media is about being social and engaging with your followers, not just repping your brand. Let them get to know the people behind your business! And, don't forget to save the best ones for your story highlights.
Fall-Inspired Contests
Contests are a nearly foolproof way to engage your followers in any season. When used correctly, contests can help you connect with current followers and even help your brand reach new potential customers.
Start by selecting an appropriately fall prize, such as a fall-themed product package, event tickets, gift cards, or even discounts.
Here are a few ideas for fall-related contests:
Pumpkin carving photo contests
Best fall photos (let users vote for even higher reach)
Favorite fall recipe
Sweepstakes for a fall packages prize
Animals in Halloween outfits photo contest
Just be sure to choose your prize carefully, as it can dramatically impact the reach of your contest. And keep in mind that even though general prizes (think Amazon gift cards) might reach more people, those people may not be in your target audience. Consider whether that is important before selecting the prize.
Conclusion
The changing season represents an opportunity for brands to create engaging, relevant content. But above all, be sure to spend time interacting with your audience. Respond to comments, thank people who share your content, and search hashtags to find content related to your industry. The best way to increase engagement is to be more engaging, so make an effort talk to followers and other Instagrammers.
Boost Your Fall Engagement With an Instagram Contest With Woobox
Woobox makes creating and running a giveaway on Instagram or anywhere online stress-free. Got questions? Reach out to the Woobox Support staff with questions from 8 am — 5 pm PST, Monday through Friday at 1-360-450-5200 or woobox@support.com.