Sheryl Sandberg made a big announcement at the end of June about a new Facebook feature launching with an aim to increase ad transparency.
Aiming to rebuild trust with its users, Facebook's communication said it was, "Giving people more information about any organization and the ads it's currently running will mean increased accountability for advertisers, helping to prevent abuse on Facebook." Political ads will need to disclose much more information than non-political ads, empowering users to make more informed decisions about content they're viewing.
In reality, marketing has always "disclosed" their ads to the public, whether it was a TV commercial, a newspaper ad, or a billboard. With the conversation of personal data sharing and usage, and consumers becoming more and more concerned about their privacy, this tool may aid in rebuilding that trust with consumers. And while many marketers are nervous about what this means for ad effectiveness, and the competitive landscape, there are ways businesses can embrace the transparency to build and deepen trust with both new and current customers.
Before we jump into ways you can use the new transparency to better your marketing efforts, let's quickly cover how you can go and view any pages current ads, right now.
To view active ads on a page, you just click "Info and Ads" from the menu option on the left side of the page.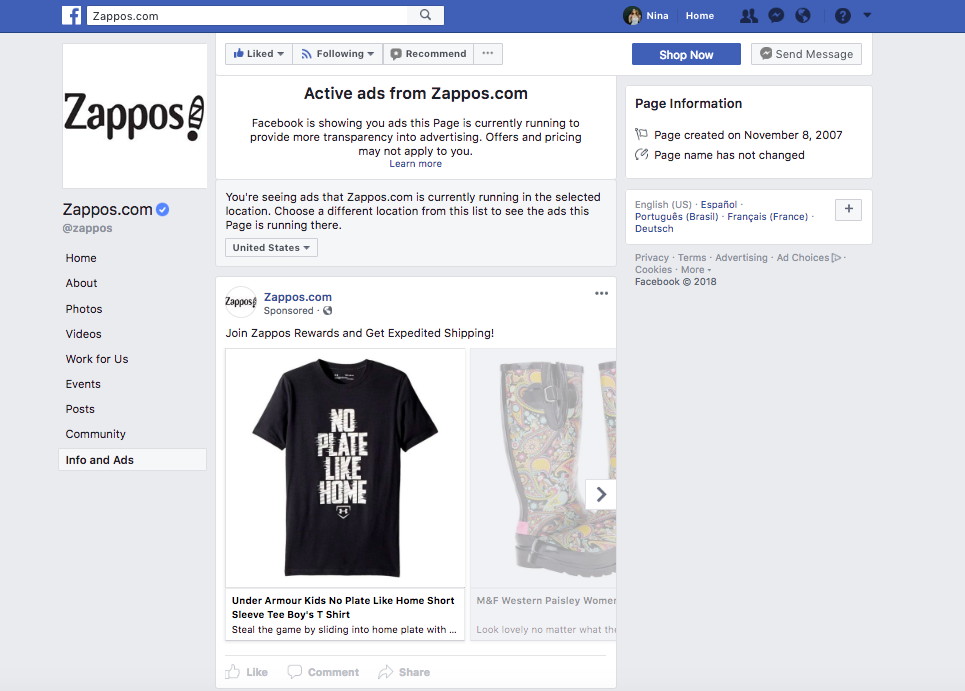 You can see all of the ads online retail company Zappos is currently running, and even see which ads they're running in different countries.
Let's dive into strategies that leverage this new tool to increase your marketing effectiveness, and ways to utilize transparency to build customer trust and reinforce your brand messaging.
1. Let Your Ads Share What You Believe
According to a 2017 Edelman Earned Brand Study, 57% of consumers around the globe will boycott or buy a brand entirely because of its position on a social or political issue. Sustainability has become one of the driving preferences of Millennials, with 73% of surveyed millennials declaring they are willing to spend more on a product if it comes from a sustainable brand. 81% of millennials from the same survey even expect their favorite brands to now make public statements about their corporate citizenship.
What does this have to do with ad transparency?
The opportunity is that your ads tab now has the ability to be a public declaration of what you believe in and support as a business.
How?
One way is the create ad campaigns that share about the way your company is giving back to the world, and to give your customers a way to post about their shared belief too. Some ways to do this are through Facebook photo or video contests.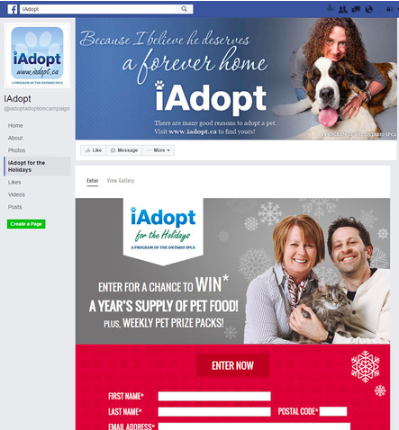 For example, iAdopt created a campaign using Woobox for a contest to win free food for your adopted pet for a whole year. The contest required an entry form, along with the entrant to post a photo with their adopted pet via their preferred social platform. This type of campaign not only provides the company with targeted leads, but communicates their core value of pet adoption, and allows others to share their shared belief in pet adoption.
Other businesses can use this same framework by sharing about the sustainable elements of the products they create, or charities or causes their business profits support. An underutilized contest idea is partnering with a social cause or non-profit, and sending a percentage of the proceeds of the sales to support that cause.
Meanwhile, all of these ads telling a powerful story about what your brand believes and the causes it supports are being aggregated on the Info and Ads tab for all new customers and potential customers to view and learn more about you who may not have been targeted by the ads. When customers see a business giving back, they often feel good about giving their money to that business.
2. Refreshing Your Ad Strategy Through Competitor Inspiration
Up until now, you've seen a competitor ad that had some merit, and you've quickly taken a screenshot to make sure you revisited the content later on. Facebook ad transparency gives you a lens into the kind of messaging and target profile your competition is investing in.
You can both expand your audience and reach more of the audience you already target by learning through insights like:
What kind of content they are putting their budget behind. You can see if your competitors are doing things to build brand awareness, generate leads, push a new product, and more. You can also learn what content your audience might be interested in since they are backing the message with money.
How many ads they are running. You can see how many ads your competitors are currently running, and compare that number to your own to test if more or fewer ads might yield better results.
Who they are targeting. Though you won't have access to their exact targeting list, the content should indicate pretty clearly what audience they're trying to serve. You can see what countries they're targeting and in what languages, which can expand your current targeting. You can also decipher if the targeted audience is more top of funnel or further into the funnel.
Here's an example ad. Let's see what a potential competitor could learn.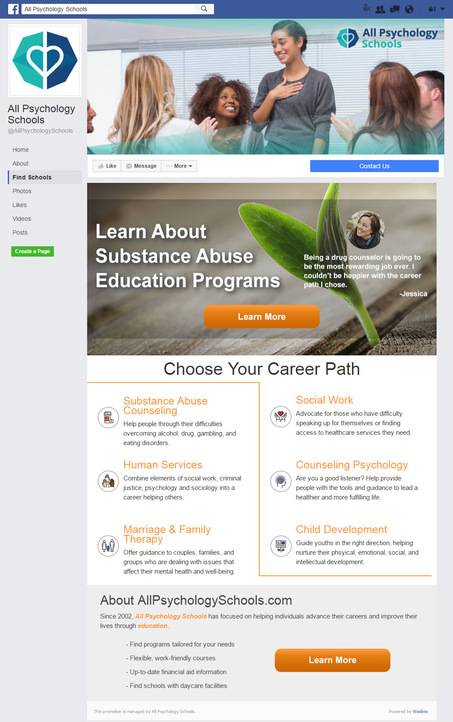 Creating this landing page with Woobox, you can see that All Psychology Schools has 6 target programs they are aiming to promote and fill for the semester.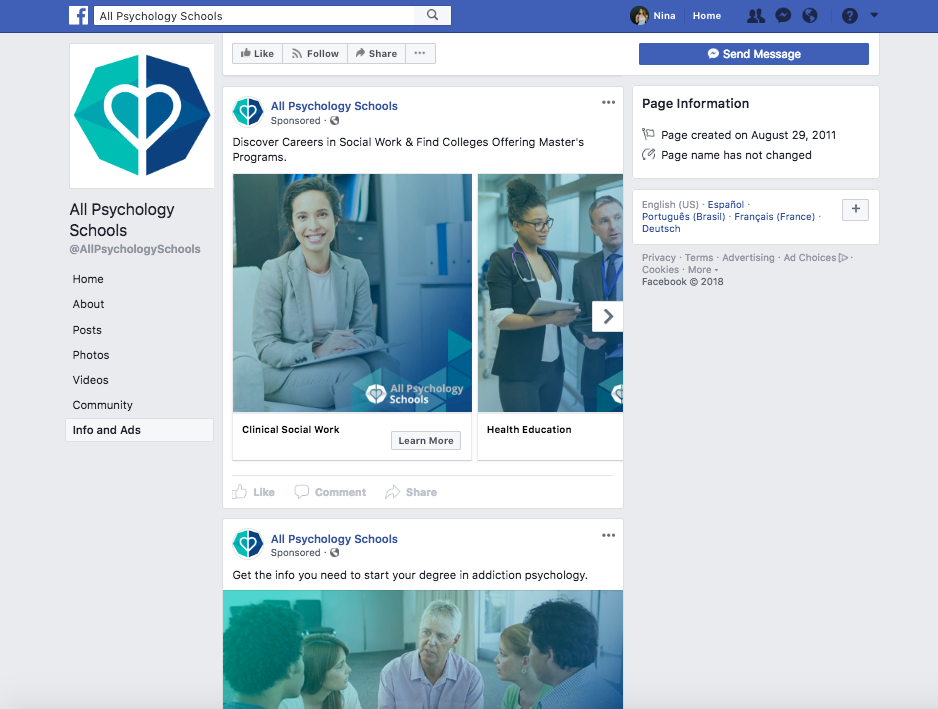 When we look at the ads they're currently running, it is clear that each of these programs has its own ad and targeting sequence. This could be insightful for a competitor who is only running 1 or 2 ad variations, that may want to create more to promote different programs more effectively and reach more relevant audiences.
3. A Step Toward Rebuilding User Trust
Research from Harvard Business School found that when consumers can trust the ad platform, ad transparency that adheres to information flow norms will actually increase ad effectiveness. This means that when someone sees an ad you are running and they understand why they are being targeted versus having their information unknowingly used, the ad itself becomes more effective.
In an age where data breaches and selling is rampant, customers are more and more likely to engage with brands they know and trust, and transparency will only add to that.
If a customer can view your ads, and they can recognize you are a legitimate business, who is playing by the rules, and not running a scam. Customers will be more likely to purchase from your business. And don't worry, potential customers cannot see how many impressions or any kind of performance indicators when it comes to the ad, they simply view it in a newsfeed format.
This is a great opportunity to show your customers you are not only trustworthy, but to also have them learn more about who you are as a business, what you offer, and what you believe.
Conclusion
The misuse of Facebook's platform has sparked a demand for greater transparency in an advertising space with a shortage of visibility. This does not have to be a bad thing for businesses, and in fact, can prove to create an even greater trust in your business online.
To implement and run some of the campaigns we've mentioned above, open a free Woobox account right now to get started building interactive content campaigns that support your branding and connect with your audience. A free account allows you to create as many photo contests, landing pages, (or any promotion) you like. Subscriptions are only required to publish and run a campaign.