+Most agencies using Woobox have multiple Admins accessing the dashboard and numerous businesses for which they apply Woobox services. This can cause quite the confusion when using our service, so let's break down exactly how to keep track of your Woobox account.
Who Can Manage Woobox?
Anyone who is at least an editing Administrator on your Facebook business page can manage that business in Woobox.
You can find who has access and add access to your Facebook page by going to "Settings" and to "Page Roles."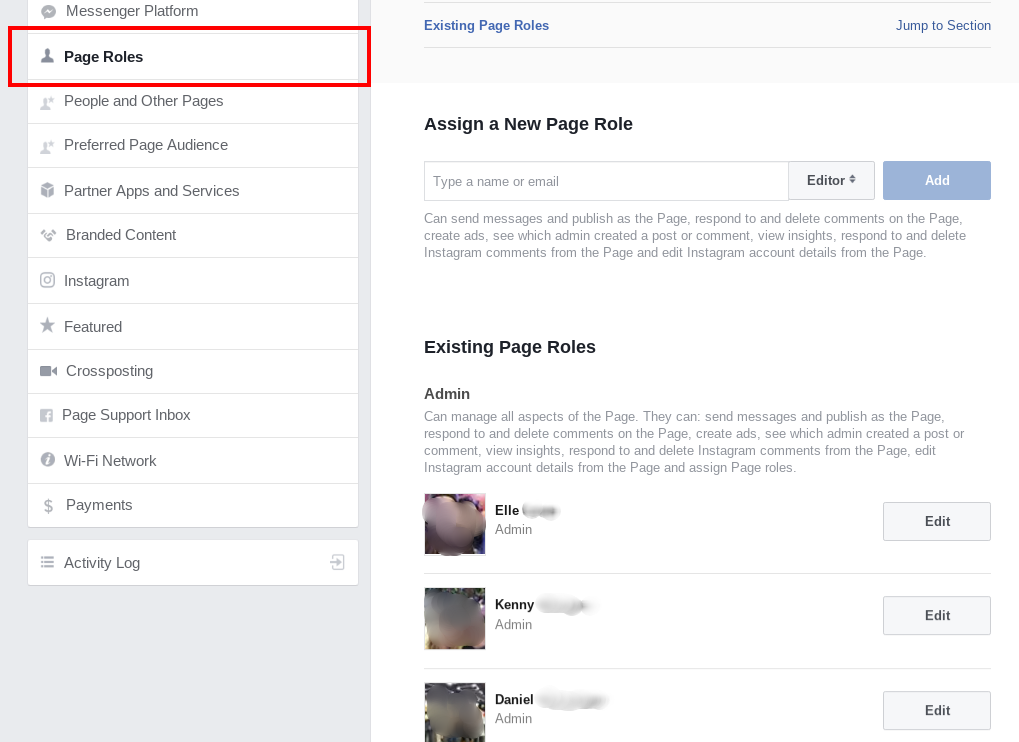 Each user will log in using their own personal Facebook account, and any business they manage on Facebook will automatically pull into Woobox.
NOTE: Facebook will remove any personal profile that is not for individual use. If you create a personal profile to manage your businesses on Facebook and you use a business name and/or a business logo, and never post anything at all… well, Facebook will find it and take your page down. That can cause significant issues for managing your Facebook business pages. It can also cause problems logging into Woobox since we currently use a Facebook profile to log in.
A common concern: other admins will see businesses managed by everyone. That won't happen. Woobox only shows each user a business that they manage. If you have a business that only you manage, other admins who log in with their own Facebook won't see that business in their dashboard.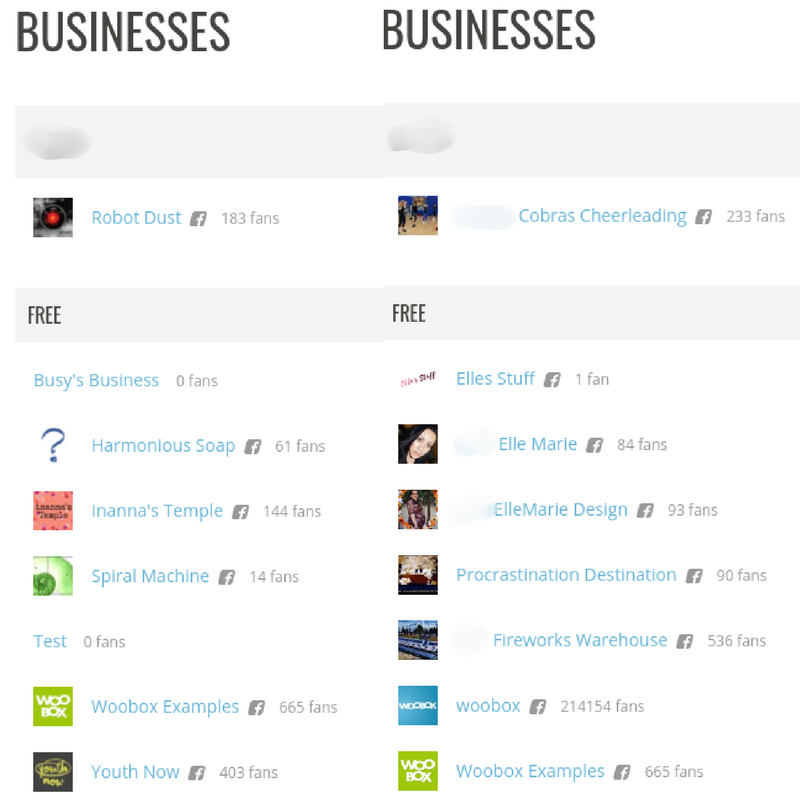 In the screenshots above, my co-worker and I manage a few pages together, but we also maintain other businesses separately. The ones that we don't mutually control do not show up in the other user's dashboard.
Who Can Manage Billing?
For security purposes, only the user logged in at the time of purchase can make changes to the billing, such as canceling or swapping out businesses on the plan. Another user can take over billing while logged into their own account if they need to make changes to billing themselves or if the billing admin leaves the company.

What are 'Brand Pages'?
Each individual Facebook page is considered a "brand page." When choosing a plan as an agency, likely you'll be on the Growth or Power Plan, since those both allow for more than one brand page associated with the subscription.
The Growth allows up to 5 businesses, and the Power allows up to 25. Have more than that? Send us an email at Sales@Woobox.com with details, and we'll quote you for the Enterprise Plan based on your needs.
Click here for a more detailed breakdown of our subscriptions.
How to Grant Access to Other Users
The best way for your team to access the Woobox dashboard is by granting them at least editing admin access to the Facebook page you'd like them to manage in Woobox. If you'd prefer not to do that, you can send them a request via email. They will accept that request in the email and then log-in with Facebook to finish the confirmation process and pull in the business.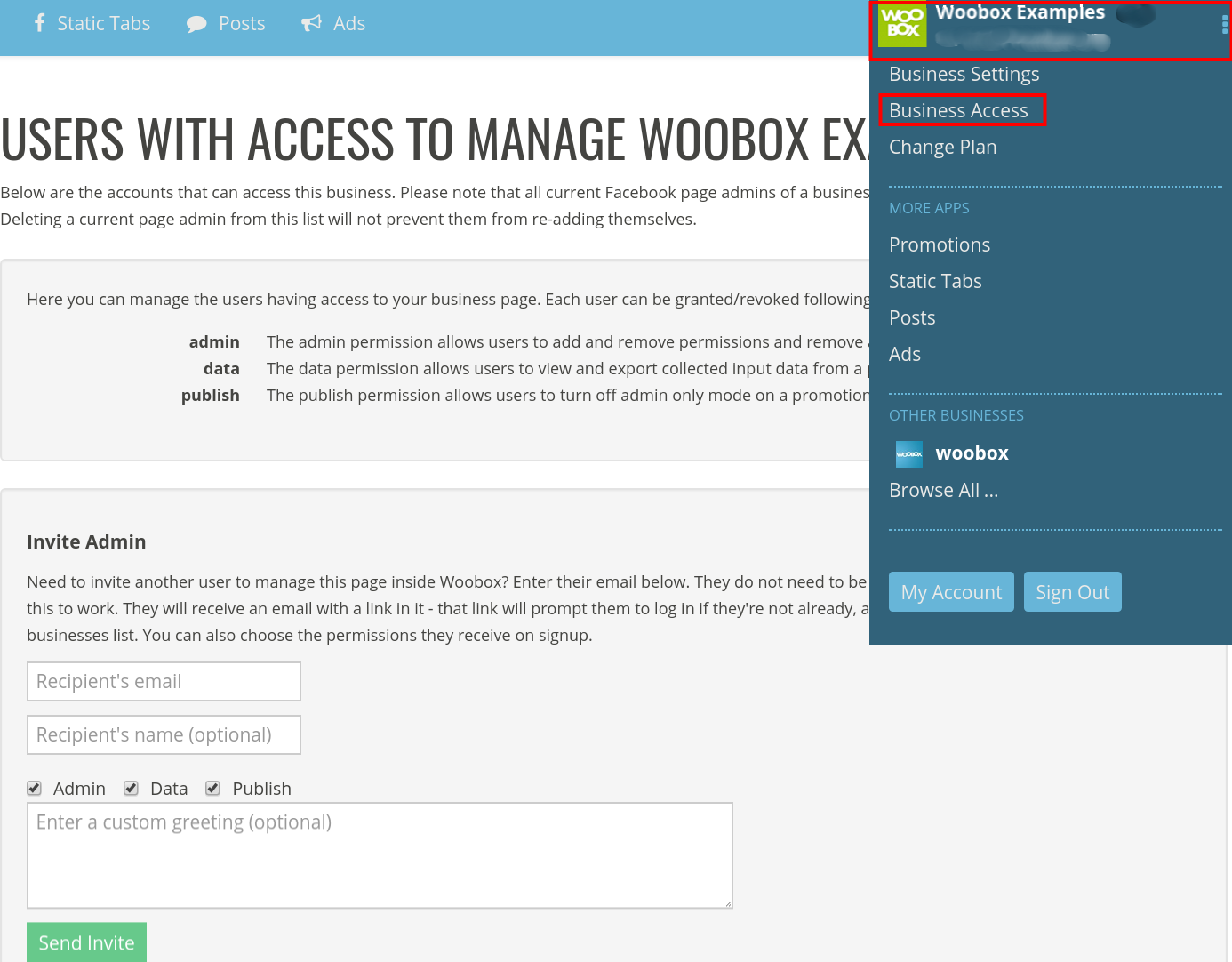 NOTE: With this method, users will not have access to your Facebook business page, meaning they cannot post to your page, install a tab, or export data or pick winners from a Facebook post.
How to Test Woobox Campaigns
When you are still in admin-only, only administrators of Woobox can view and test the campaigns. All the user needs to do is be logged into Woobox when they go to access the offer. Here are some more specifics on efficiently testing your offer.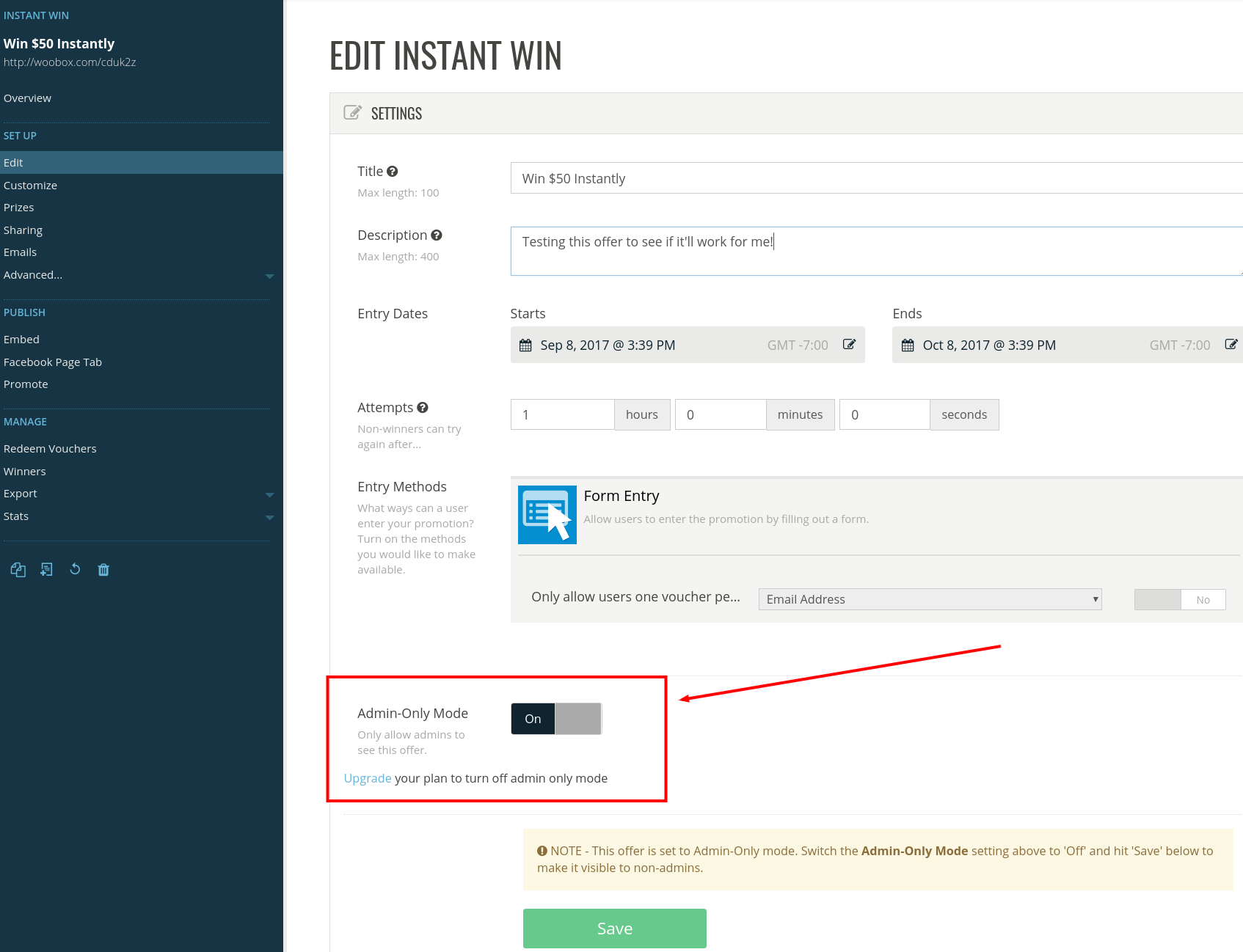 What Brand Pages go on a Subscription & How to add/remove Businesses from Subscription
When you purchase a plan, you will purchase for one business. Then you can add more to the plan. This means we will not automatically throw all your businesses on a subscription, you can actually pick and choose which ones you want on that paid subscription.
You can learn how to add and remove businesses from an active subscription by visiting this support article.
Get set to take your agency services to a new level by using Woobox. Login for free to set up a successful campaign for your clients! Ready to go live? Purchase a subscription and publish your offer. Have any questions? Check out our forum or email your questions to support@woobox.com.