Nothing encourages a user to get involved more than having an alluring incentive for doing so. While contests and promotions aren't new, they have taken a new form by transitioning online and becoming an effective marketing tool. Every year email addresses and social media engagement are becoming increasingly important for means of contacting and engaging with your audience. Much like how home phone numbers and postal mailing use to be the main lines of connection, email and social media accounts have now replaced that old model and presented us with a new one. That leaves many marketers asking, "how do I collect these emails and get extra engagement on my social media pages?" In this blog we will explain how and why contest and promotions are an effective tool for collecting this information and further growing your market.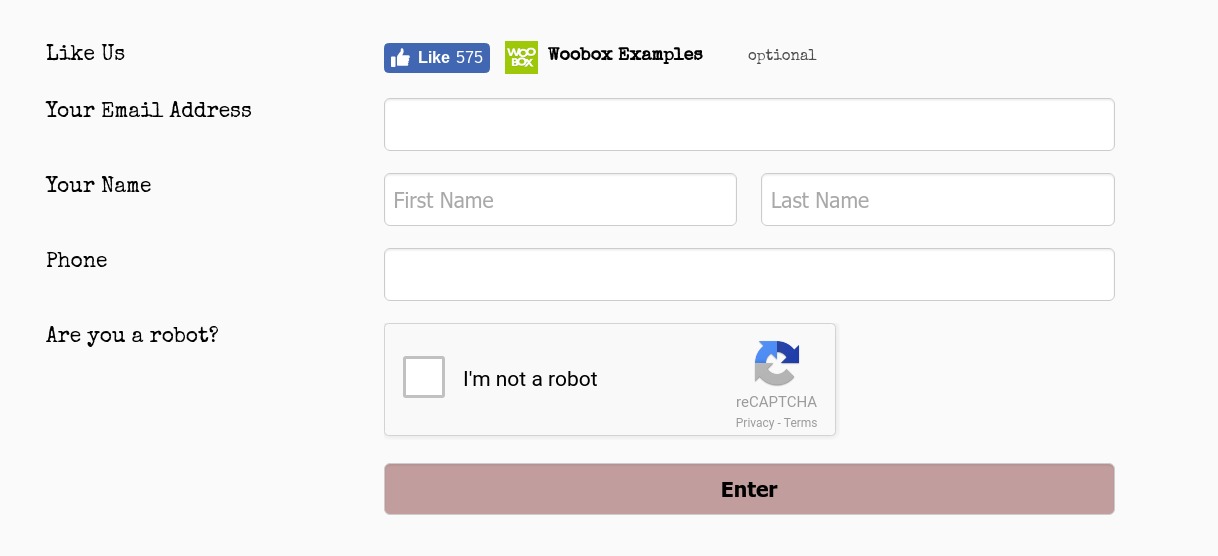 Effective Tool for Building Your Fan Base
Whether you are a brand new page or if you have over 1 million fans, contests and promotions still offer the potential to gain larger audience and engagement to your social media network. If a person enters one of your promotions odds are that they are a fan of your brand. Therefore they would find it advantageous to follow you on social to see future contests and content. Not only can you get this engagement on one page but you can also ask them to follow you on all social media pages and grow all of them through one marketing effort. A sweepstakes promotion does a spectacular job at all of this, while still offering an easy to enter form and promotion flow making it almost no hassle for the for users to enter for a chance to win.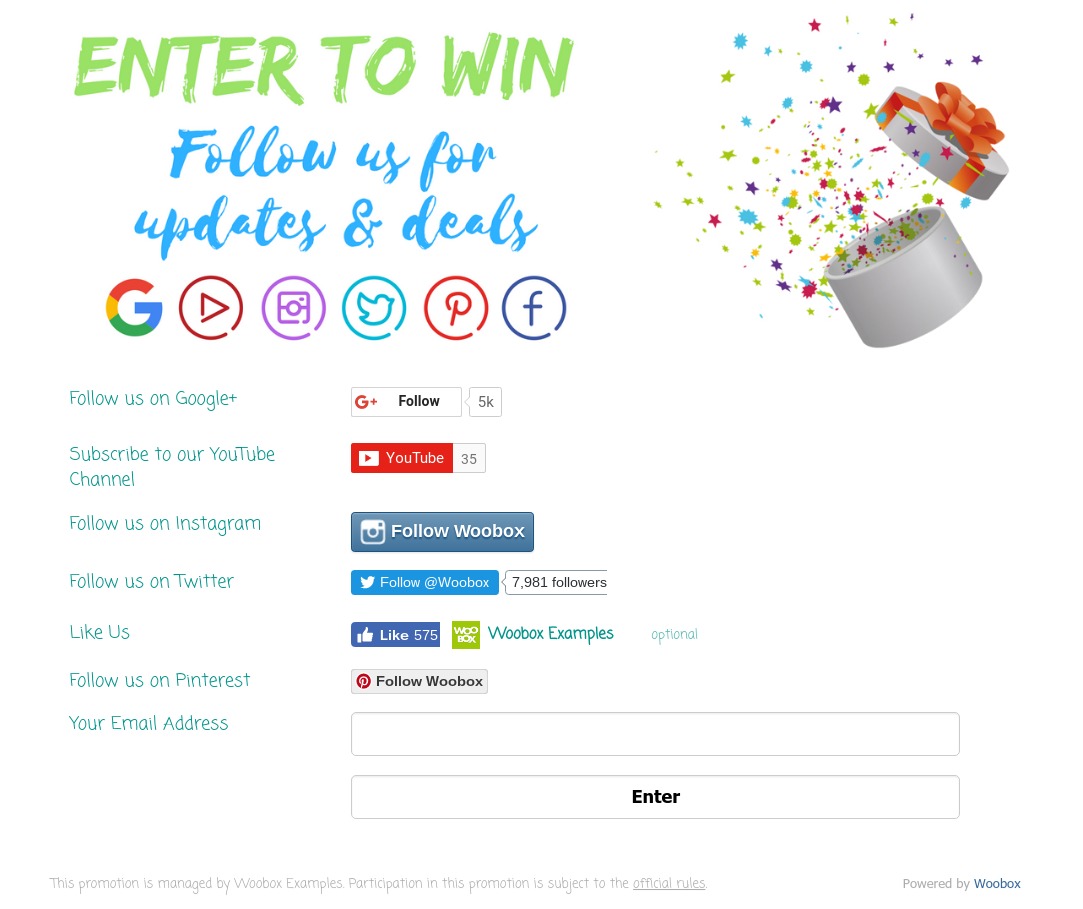 Customized Data Collection for Promotions
Data collection has become more and more important as there are now a vast amount of ways to advertise to users based on certain criteria. Being able to collect specific information is essential for marketers to get the most bang for their buck. Each form within Woobox is fully customizable so you are able to collect any information from entrants such as names, email addresses, usernames, and more! With a prize on the line, users tend to be comfortable and inclined to offer their information for the opportunity at winning the desired prize.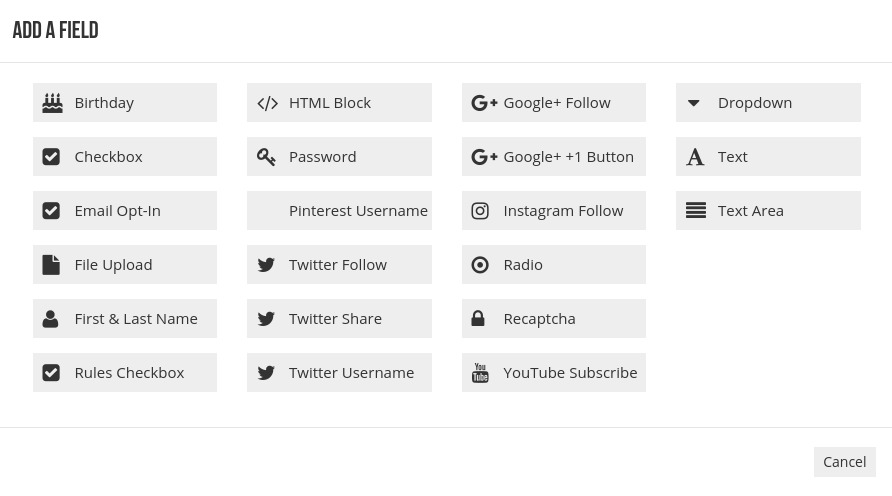 Let Yours Entrants Also be Your Marketers
Marketing a promotion can become overwhelming for some. In this day and age there are so many options of how and where to begin your marketing efforts. Of course you can spend money on paid Facebook ads which works wonderfully if you know your target market, but what if you're looking for alternate cost efficient options? Posting to all of your social media avenues is the first step to get the ball rolling. What happens then? How do you make those posts as effective as they can be?
What if the entrants from those posts could become your individual marketers? Sounds almost too good to be true, right? Well, within the Woobox sweepstakes (and many other offer types) we provide a number of ways to give your campaign a higher chance at going viral. What works great is our referral bonus entry method. After a user enters into your promotion they are taken to a post-entry page confirming their entry and allows for them to share the contest. On this page they are given a unique entry URL that they can share however they wish. For each user that they can get to fully enter into the contest via their unique URL, it will give them a specified number of bonus entries based on your settings. Entrants are incentivized and likely will take any option to increase their chance of winning, especially if they have already taken the time to enter. This generally brings in like minded individuals such as friends and family that may fall directly under your target audience. Additionally, this could even save you money, as bonus entries will help with organic reach that ads may not target to.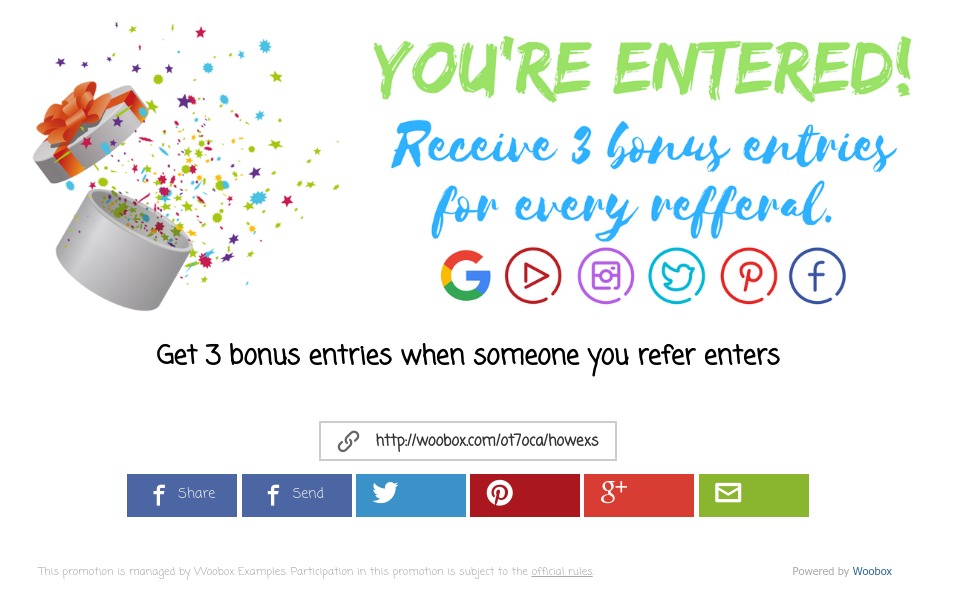 Further Engagement With Your Audience
Now that you have run your first promotion and/or already have a large audience, how do you keep them engaged? One of the best ways to keep fans engaged is to run a User Generated Content campaign. UGC promotions lets your audience express their creativity and feel like they're a part of your brand, with a major benefit of allowing you to now have extra content from your users. This is fantastic for continuous marketing efforts and showing your connection with your audience. It not only gets the newly acquired and established audience on your page involved, but if you add a voting aspect to the contest the entrants will be getting all of their friends and family to also visit the page so they can vote on their favorite entry in the contest. This can keep engagement going for a much longer period of time and may also lead to future audience growth by getting those new users to the page to vote.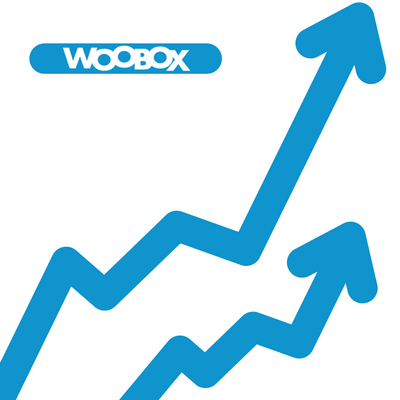 Ready to start your first marketing promotion? Sign up at Woobox.com and get started for Free! Have questions? Email us at support@woobox.com
.