Just in time for the holidays, the new Advent Calendar element and templates are here! 'Tis the season, so in this blog we'll discuss setting up the perfect Advent Calendar campaign for your brand.
In the Create a Campaign section of your dashboard, you can select either "Featured" or "Landing Pages" and you'll see the Christmas Advent Calendar Giveaway and 12 Days of Christmas Giveaway templates.

Select one of these templates for the quickest set up, but keep in mind that you can add the Advent Calendar element to any campaign type.
In the Design section, click on the "Basic Calendar" element in the preview or on the left to edit/customize the calendar.
The first option is "Choose a Mode". Day Mode will display numbered days that are not date specific, Calendar Mode will display the date of the month beginning with the date you set in the Start Date field, and Image Only Mode will hide the countdown/calendar entirely and only display the images/text you enter for each day below.
After choosing a mode, select the number of days to display and set a start date (if applicable). Then, you can add the image and/or text that will display on each day. If you're awarding a prize each day, you should add that day's prize information here. Otherwise, you can add fun images or messages like "10 days to go!".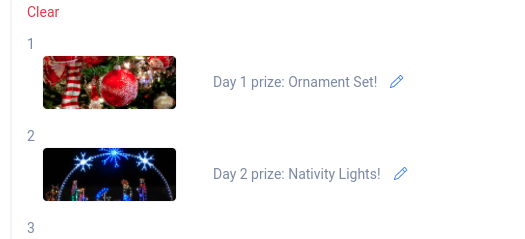 The text and images for each day will display on the entry page during that day.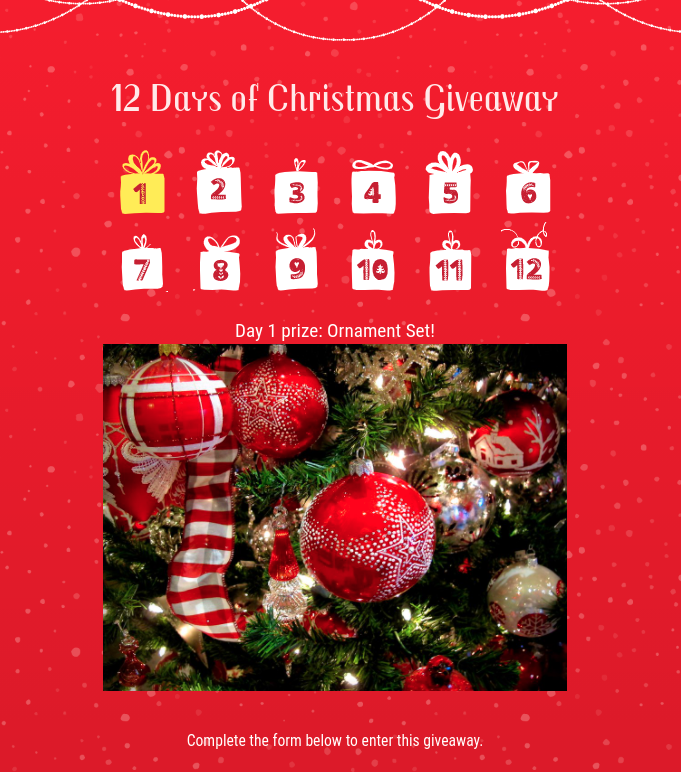 To add the Advent Calendar element to any other campaign type, in the Design section select "Add New Element" and then choose Advent Calendar from the menu. You can even select one of the holiday themes from the Themes section. This way, you can create a Christmas Countdown Instant Win, an Advent Calendar Photo Contest, or even a Christmas Quiz!
If you need any help with your Advent Calendar campaign, don't hesitate to reach out! Email us at support@woobox.com. Happy Holidays!