Sales and e-commerce are big business, and marketers or business owners are wondering how to get a piece of the pie. Retail sales hit a record high of $6 trillion in 2018, according to The Balance and the U.S. Census. The enormous amount of spending contrasted with the number of businesses looking to be profitable means that businesses are getting more competitive with their sales strategies.
Because there are holidays and specific times of year that consumers are planning on shopping, they expect brands to respond to demand with certain campaigns or creative messaging that will help them choose where and what to buy. This is where promo codes come into play. The right promo code combined with a compelling marketing campaign can help your business increase sales from holiday and seasonal shoppers. From which times of year to run campaigns to how to stay competitive in the market, these tips for promo codes for marketing campaigns can help get your strategy in order.
Popular Holidays to Run Campaigns
Of course, holidays like Christmas, Hanukkah, Black Friday, and Cyber Monday bring enormous spending, starting in the fall and going through the holiday season. The National Retail Federation reports that polled consumers expected to spend over $1,007 on average in 2018. This is the time of year where consumers spend the most. Thus, It makes sense for many marketers to have the most focus on the winter holiday season.
The new year is also an easy transition, as consumers are getting back to work in school after their holiday break and looking for a fresh start or something that aligns with their New Year's resolution.
Days when school is out and many people are off work, like Labor Day and Memorial Day, also make for great promo code campaign holidays because it's more likely consumers are looking for deals when they have more time off work.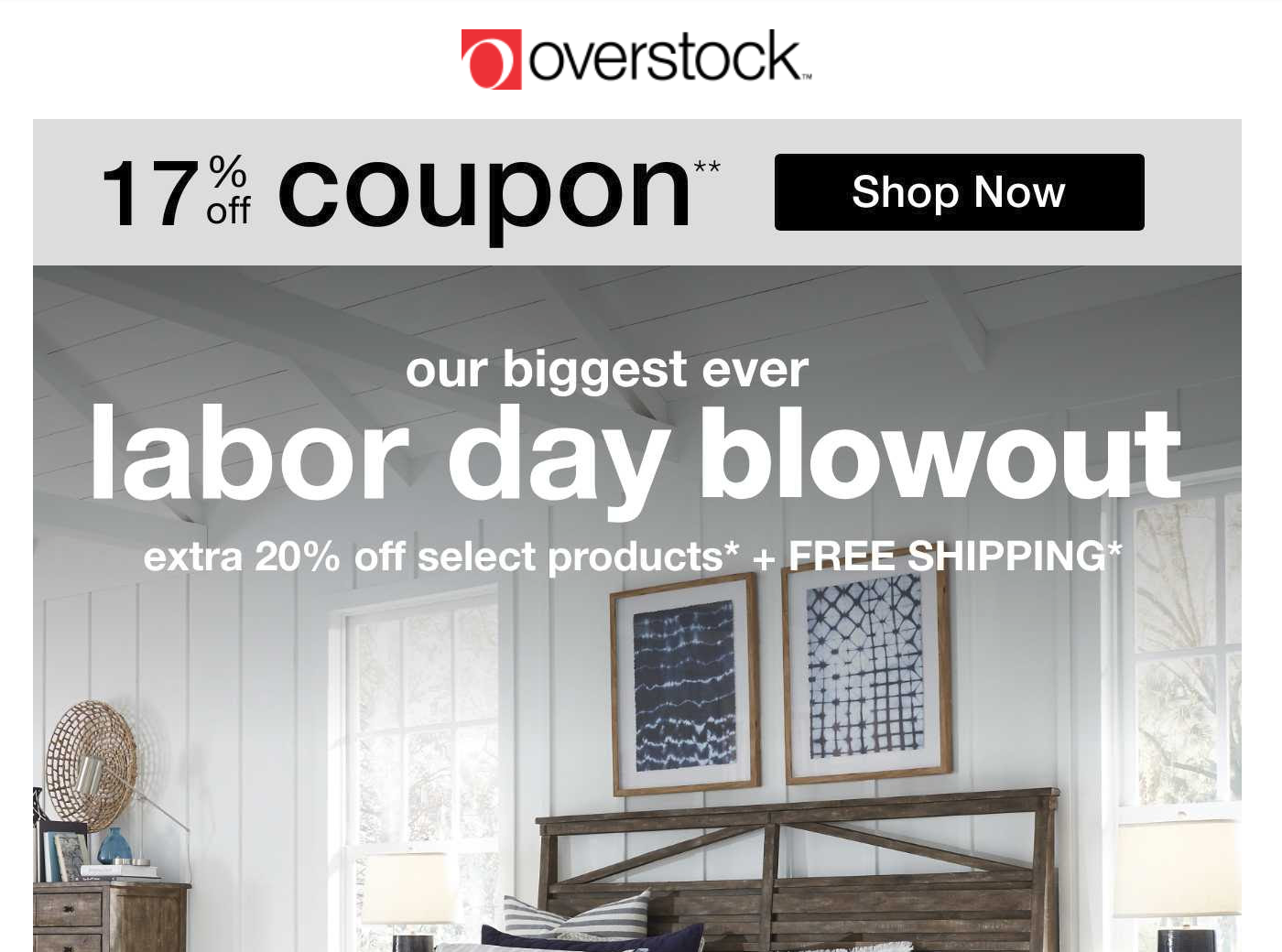 In the above example, Overstock is using Labor Day as their sale theme, as well as an interesting percentage off: 17. This could either be an A/B test of different discounts sent to different email subscribers, or an attempt to do just a little bit more than their competitors that are offering a 15 percent promo code.
Campaigns Throughout The Year
Not all promo code campaigns should be relegated to official national holidays, such as Christmas or the 4th of July. As mentioned previously, the winter holidays bring in the most spending from consumers, but the National Retail Federation reports that heading back to college and then back to school have the 2nd and 3rd highest rates of spending, at an average of $977 and $697 in 2019, respectively.
Furthermore, if your product lends itself to specific seasons, it's more important than ever to have promotions that reflect that fact. For instance, if you sold naturally-sourced sunscreen, it would make sense for you to have promo codes running during the spring and summer when many people are using sunscreen more often to go outside.
In this example, the Sprint Center venue in Kansas City used the end of summer as a reason to shift customers' mindsets into fall with this promo on Carrie Underwood tickets: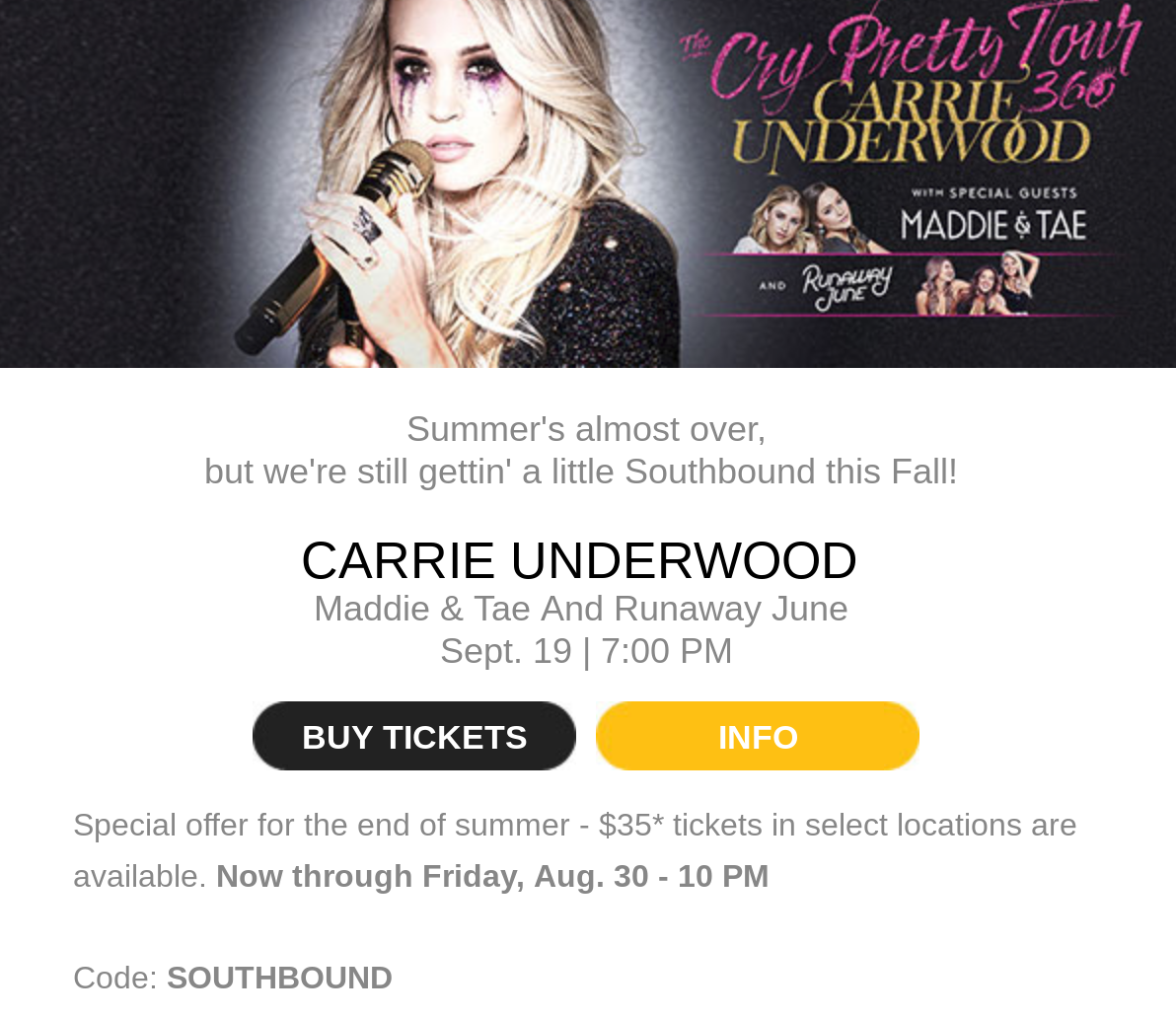 Many customers like to plan concerts and events ahead of time, so preselling tickets through promo codes is a great way to get sales in advance while being convenient for customers.
It also pays to think about what holidays your consumers are celebrating throughout the year that are often overlooked. For example, you could send out an exclusive promo code to people celebrating their birthday or anniversary, or even the anniversary of the date when they made their first purchase with your company. Think of a fun way to celebrate each individual customer each year, giving them an extra incentive outside of holiday or peak seasons to make a purchase.
Some companies also like to celebrate their own holidays, such as the anniversary of another year in business or their founder's birthday. These types of holidays are important to the company and give them a reason to celebrate with its customers.
Competitor Research
To get inspiration for your own promo codes, do some competitor research. See what your competitors are doing well and what they could improve upon to figure out an angle that makes your campaign stand out. It's usually best to avoid copying what's already been done and instead find an angle that hasn't been explored to get even more customer attention.
Whether you are a local business or have an e-commerce site that serves customers worldwide, be sure you research both local and international businesses as your competitors. You can get almost anything from an industry e-commerce site or a large market stakeholder like Amazon and eBay, so it makes sense to always consider a variety of businesses and websites in your competitive analysis to determine how your campaigns can be unique.
There are dozens of competitor analysis tools to use for data and suggested companies to target, but you can also use Wayback Machine to see what specials were at certain times of year for competitors. Some good old-fashioned legwork can also help here: sign up for competitors' discount clubs or email newsletters to see the kind of marketing messages getting sent.
Another interesting thing to consider: coupon code websites like RetailMeNot could technically be considered competitors when it comes to sharing a slice of the traffic of people looking for deals in specific areas or on your certain products. Some companies have attempted to combat coupon sites from distilling their traffic by creating promo code pages of their own on their own website.
Teleflora does this by creating a landing page for promo codes and then switching them out monthly: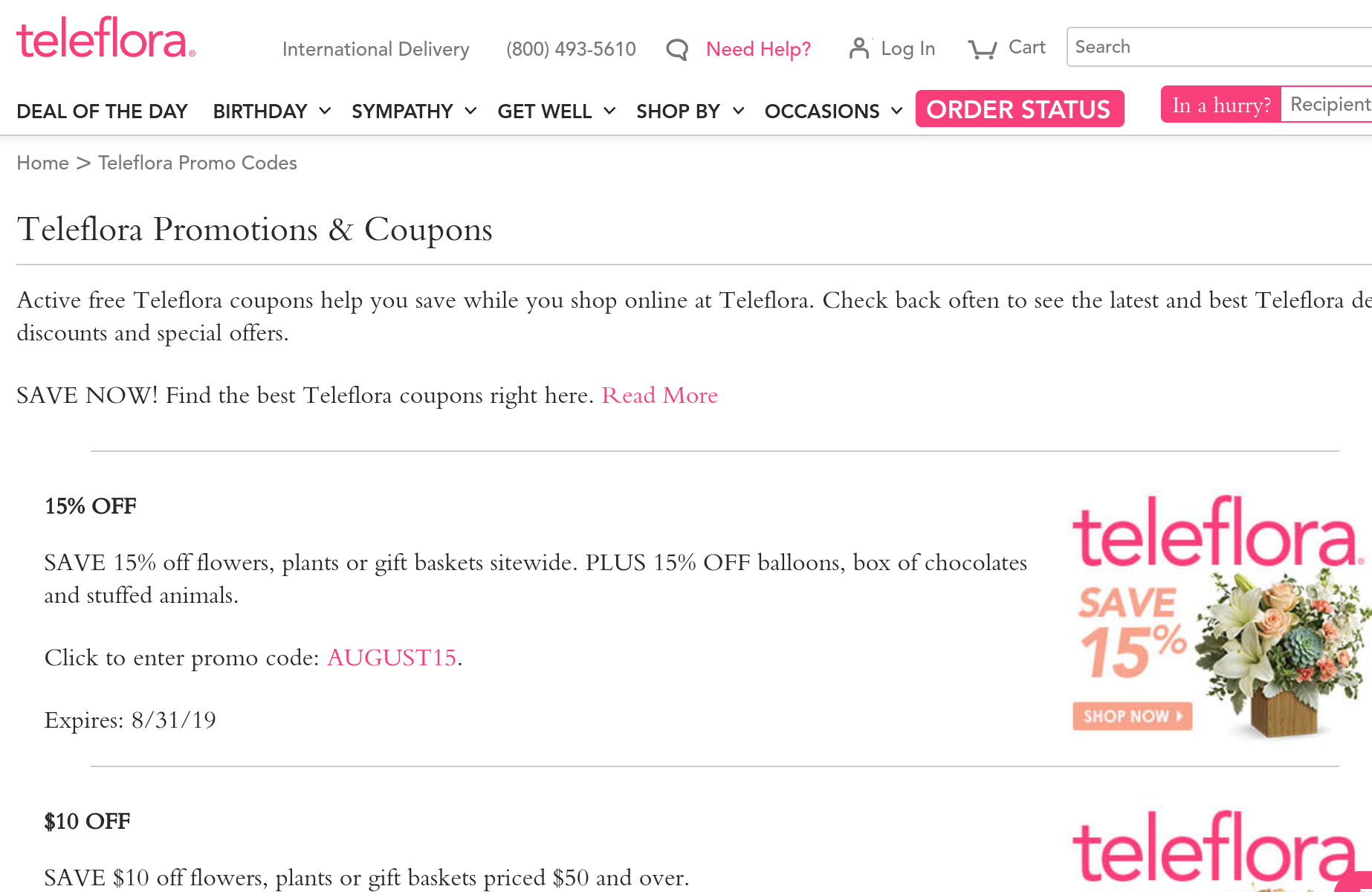 A business creating a promo code page on their own website is more likely to rank higher in search results than affiliate or coupon code sites, depending on their authority and online presence.
It's important to also think of competitors that go beyond your direct industry counterparts. When it comes to Consumers shopping, such as buying a gift for someone else, a shopper may be more likely to look in several different Industries for gifts. For instance, if you sold collectible baseball cards and one of your target markets was wives buying cards for their husbands as a gift, you might also look at other businesses that sell gifts for men, such as jerky of the month clubs or graphic t-shirt shops. Think about how your consumers may branch out their search based on a term like "gifts for men" versus "collectible baseball cards" because they may not know exactly what they are going to buy their husbands yet. Creating promo code campaigns for these types of audiences can get more engagement from a wider number of people.
Messaging is Key
No matter what type of promotion you decide to run, clear messaging is key. It's easy for customers to misinterpret sales guidelines when promo code parameters aren't clear or gets lost amongst the fancy holiday design. On all campaign materials, be sure to include the start and end dates, what the promo code is good for, whether it's a free item, a set amount of money off, or a percentage discount.a
Customers also don't want to feel tricked or bamboozled when they try to use a promo code that doesn't work with what they are buying. Don't make it overly complicated by requiring specific items to be purchased or by using confusing language to explain what the deal actually is. There's a popular principle from graphic and UX design that is also applicable here: that of KISS (Keep it Simple, Stupid). Don't try to overcomplicate to get attention. The best, most creative deals will always be appreciated and used by customers.
Depending on the size of your company, you'll also likely get support requests or comments on social media asking about the promo code parameters. Your messaging also extends here: make sure to interact with current and potential customers that reflects your brand's values.
Be Unique
When it comes to campaigns, it's important to see what competitors are doing and making sure you're taking advantage of peak shopping times, but it also pays off to be creative and think about other things you can celebrate throughout the year. For instance, Woot.com, an overstock site that was acquired by Amazon, took the opportunity to celebrate weekends as their own holiday by sending out a weekend-themed email about their current deals.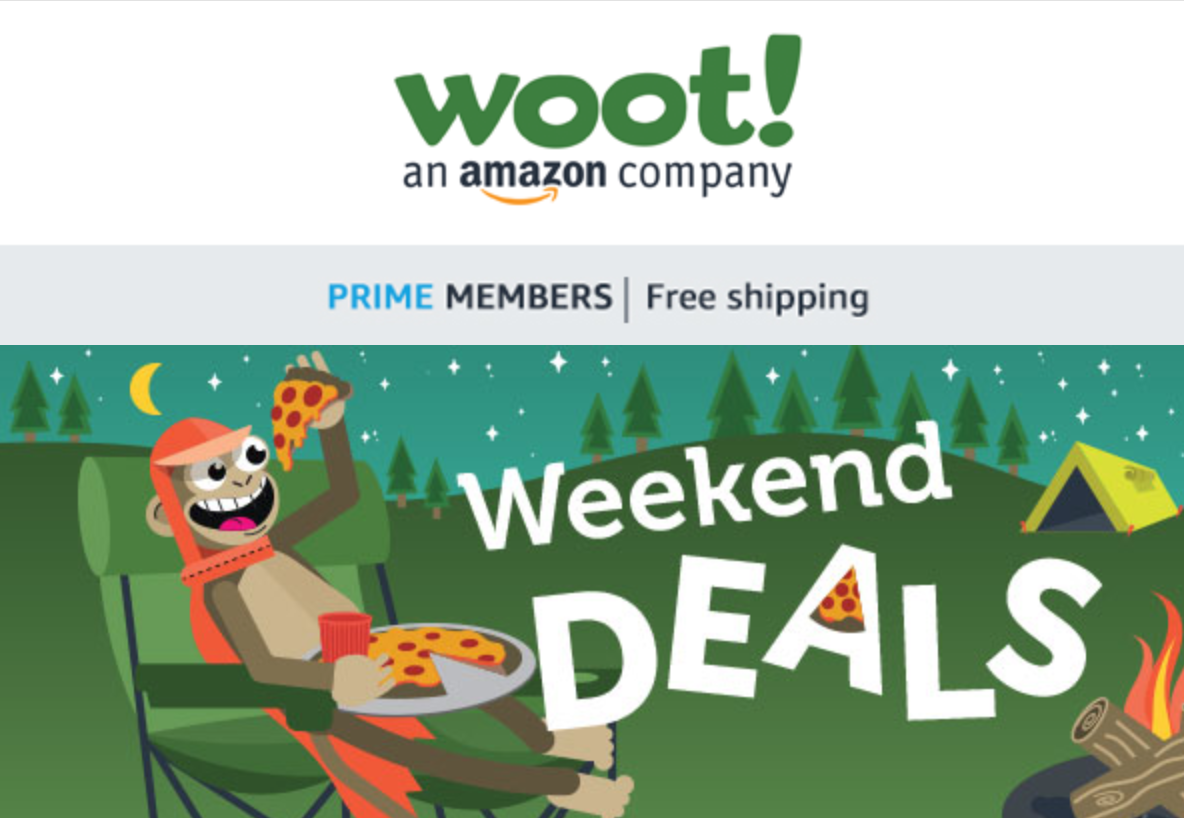 Conversely, other companies had taken fun holidays like National Pizza Day or National Left-Handers Day to create unique and memorable promo code campaigns to celebrate these lesser-known holidays. These have the benefit of standing out among other promotional emails that aren't celebrating smaller holidays and helps you increase brand sentiment with your customer base.
Holiday seasons and celebratory times of year make for a great reason to run a promo code marketing campaign. Keep your promotion simple, but also creative to help it stand out from what your competitors are doing. If there are specific holidays or times of year that seems to be overlooked by competitors, take that as an opportunity to create something enticing for customers.