Update 11/2018: Hashtag searches are no longer available for Instagram as hashtags are pulled only from the last 24 hours with this method. To aggregate all public posts using a hashtag, we recommend using a UGC contest.
Have you tried our free Pick A Winner app on Facebook? If yes, you know we've made the process of picking a winner from a Facebook post promotion simple. Did you know that you can also select winners on Twitter by using a specific hashtag?
Tell your followers to use #YourHashtagHere and our tool can randomly select a winner from all public hashtag mentions. It removes all the guesswork and any hints of favoritism from the equation!
Here's how it works:
Step 1) Come up with a creative promotion and unique hashtag for Twitter.
The promotion should provide a product or service your fans desire. On Twitter, you have a limited number of characters to describe your offer and provide instructions. Be creative and keep it brief.
Examples for Twitter: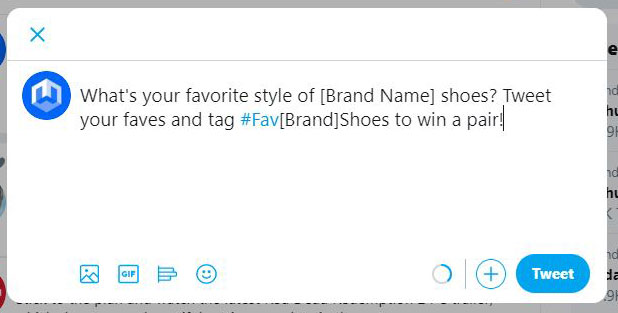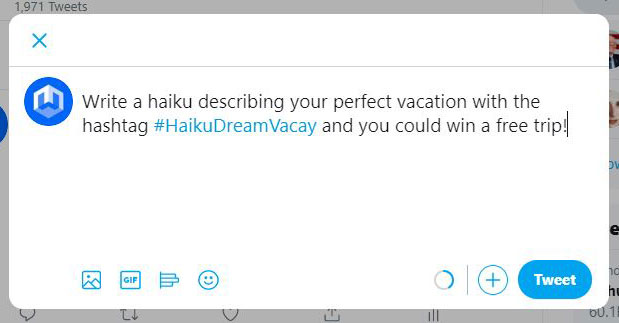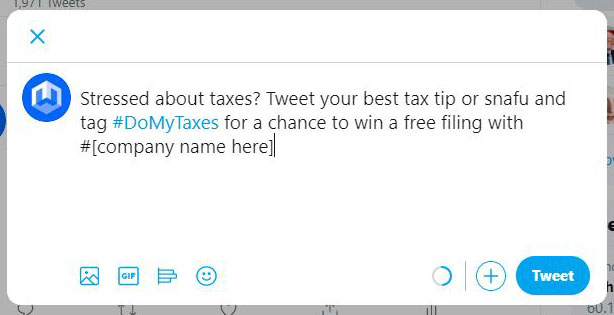 Step 2) Let the world know you're running a Twitter hashtag promotion.
Tweet it. Instagram it. Facebook it. YouTube it. Blog it. Email it.
Use the channels you feel are the most appropriate to get the message out. Just can't say it all about 140 characters on Twitter? You can include a link to your website, describing the promotion in greater detail!
Be specific in your hashtag promotions on Twitter. Use #cats as your entry hashtag, and you'll get many results that have nothing to do with your promotion. Consider using something unique and descriptive. Ensure it has an incredibly low likelihood of accidental tagging. For instance, #WinAYearOfWoobox or #WeLoveWoobox or #IWannaWinWoobox. Of course, using your company name, not ours. Trying searching for the hashtag you are thinking of using and see what pops up first.
Step 3) Once the promotion is over, log in to your Woobox Dashboard and pick your winner!
Click on "Posts" on the left navigation menu.
Then select Twitter from the four options.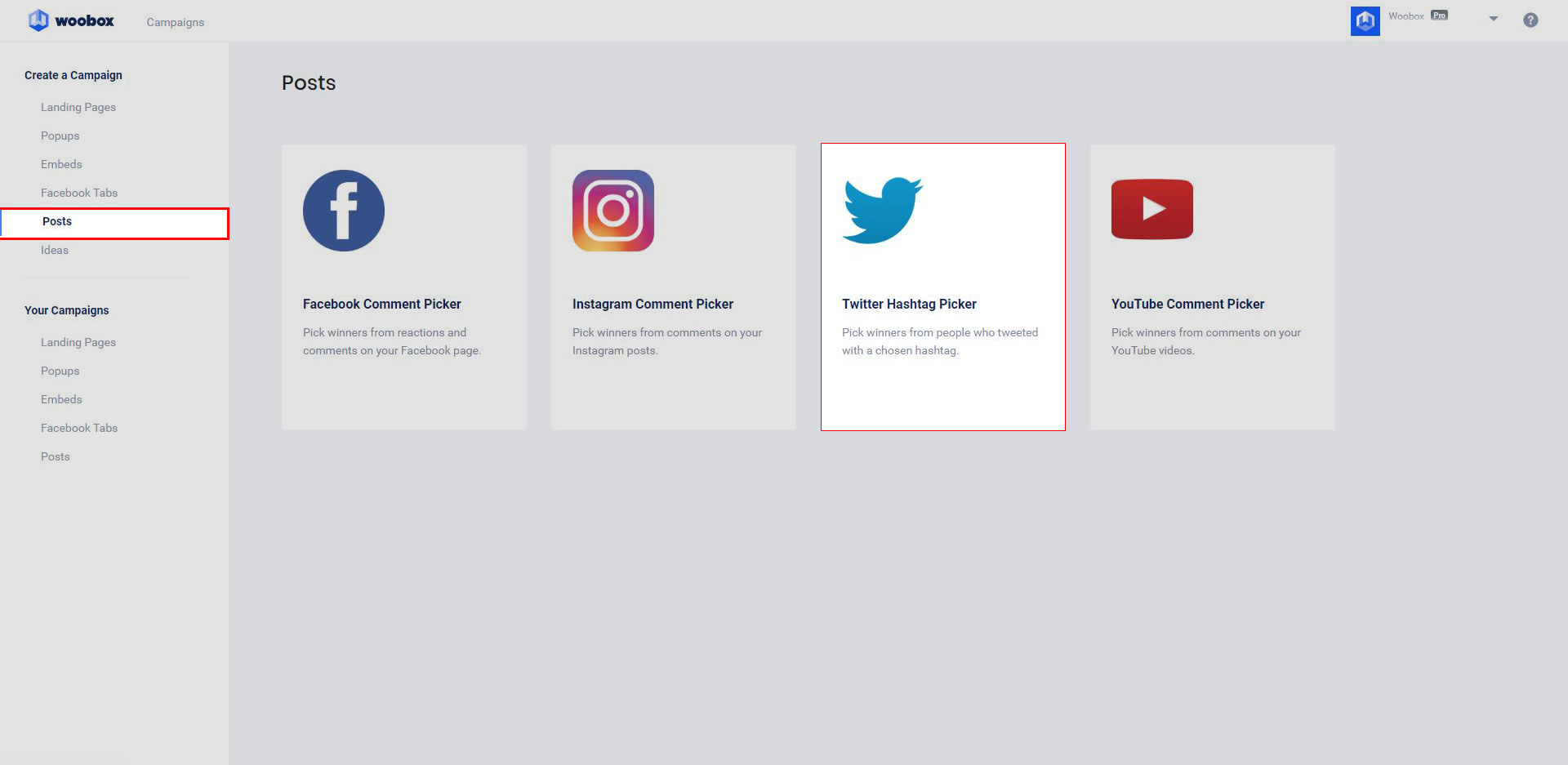 Click on "Add Search" to set up a new search term:

You can configure your Hashtag search before or after you begin your promotion. It will pull all mentions of that hashtag when you log in and hit the refresh button.
Click the "Pick A Winner" button next to the hashtag you want to choose from. Woobox will randomly select one winner from that pool of entrants. If for any reason you need to delete the chosen winner and pick a new one, you can do that directly from this page: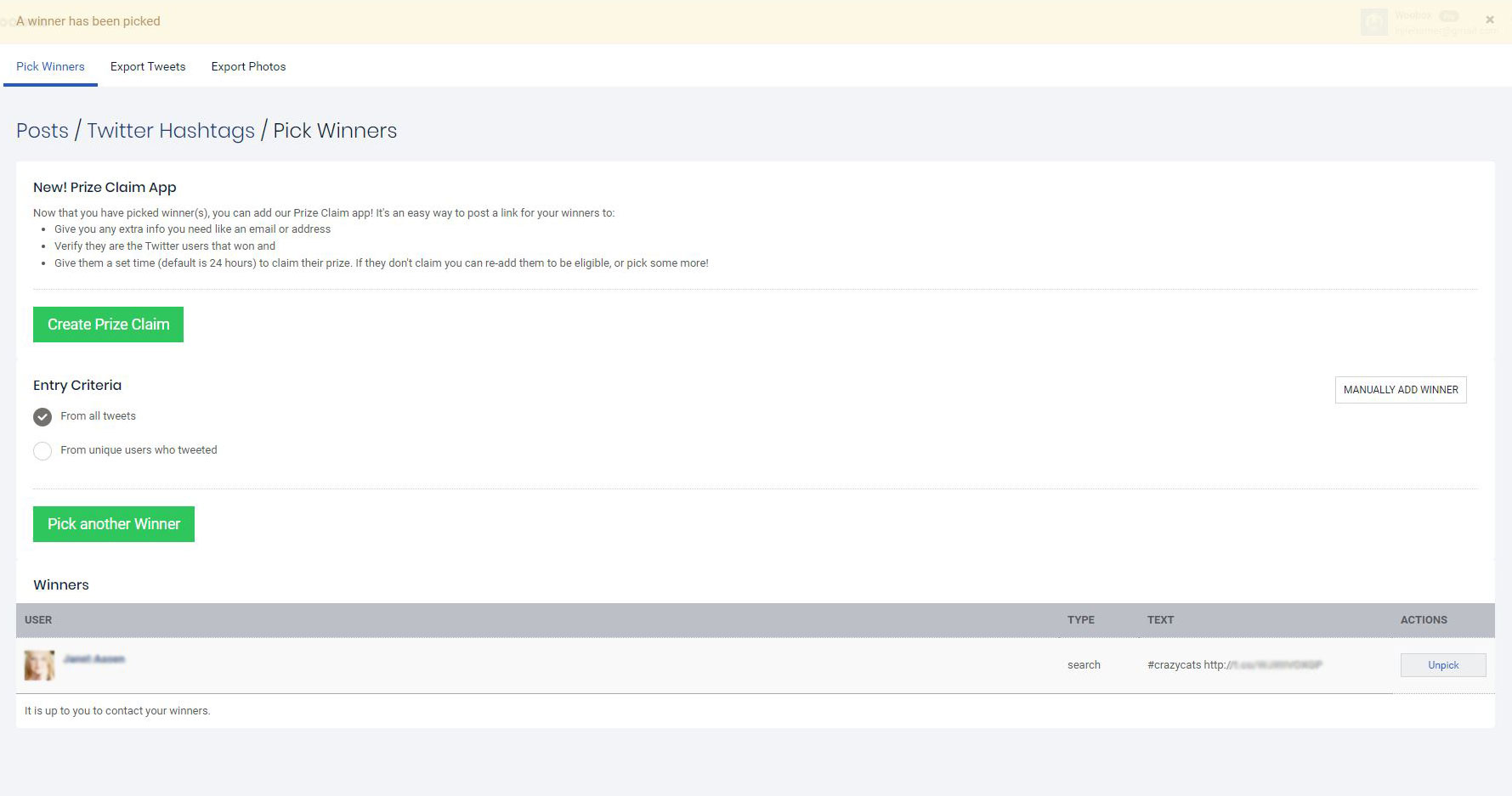 And there you have it! Announce the winner on social and provide them instructions on how to claim their prize.
Login for free to start setting up a Woobox campaign! When you're ready to go live, you can setup a subscription to publish your campaign. Have further questions or need clarification? Email your questions to support@woobox.com.