We've expanded your options for Sweepstakes entry settings!  Now you can restrict entries for a Sweepstakes offer to just one entry per email address each day.  This setting is similar to the "One entry per Facebook user per day" option that many Woobox users take advantage of regularly within their contests.  You can change the One entry per User setting under the Entry Page section of the offer's Edit Sweepstakes page.

Probably the most exciting benefit of running a Sweepstakes with the "One entry per Email Address per day" setting is that it can help you drive more traffic to your page from both new and returning visitors!  It can be tough to get return visits to your page if you don't have big news or changes every day, but this entry restriction gives people the encouragement they need to come back day after day throughout any given offer.
If you enable the automatic Share popup dialogue as well, entrants will be prompted to share a Wall Post every single time they enter.  The opportunity to earn bonus entries is also a great motivator for sharing, so you can see that there is a lot of added visibility and viral potential for offers that utilize all of these features!
TIP: Make sure to let your visitors and entrants know that they can submit an additional entry every day, increasing their chances of winning.  A great place to do this would be in the Post-Entry Page content.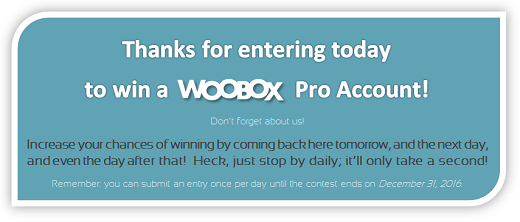 If you haven't done so already, sign up for a free Woobox account; then create a Sweepstakes offer in Preview Mode, and when it's ready to go, just upgrade your plan level to launch the Sweepstakes!
Follow @WooboxApp on Twitter and check out our Facebook page for future update announcements, and make sure to let us know what you think!