Today, were announcing the launch of our latest Facebook app feature called FriendGate!   You can now require that a user must have a minimum number of friends who Like your Facebook page before they can view your page tab's content.  We want everyone to try it, so it's Free through August 31st!
We've added friend gating to our Woobox Custom Tab app.  Using the custom tab app you can restrict any HTML content behind both a Like to reveal and the new FriendGate.  You can also use both features at the same time to ensure that the user Likes your page and has N friends who like your page.   The default view shows a user all of the friends who already Like your page, and the number of additional Likes from friends they still need to access your content.   A prominent share button gives them an easy path to promote Liking your page to their friends.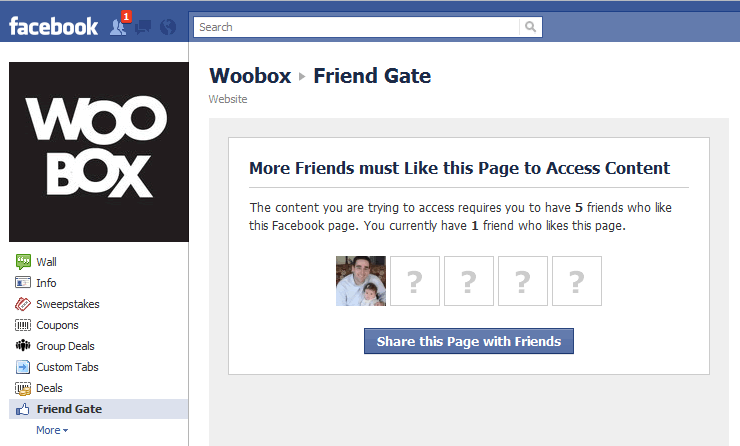 You have full HTML control over the Friend Gate screen.  A default screen is provided if you just want a simple way to turn it on, or you can use the HTML mode to create a completely custom look.   For HTML mode, we provide Javascript variables so that you can insert the number of friends a user still needs and other dynamic data right into your HTML design.

We know you'll come up with lots of creative uses for this powerful new feature.   It's completely Free through August 31st!  Afterwards, it will be part of our Pro package.  You can try a demo here.  To get started with your own custom Facebook tab you just need to install the Woobox Custom Tab.