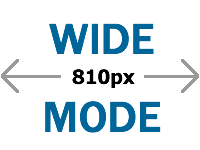 Looking to run sweepstakes, contests, coupons, and giveaways that take advantage of the full width of Facebook's new Page layout?  All Woobox apps now support 810 pixel wide format mode.
When creating a new offer or editing an existing one you'll see a new option that lets you select 520px wide or 810px wide offers.  When you enable the 810px wide format, you can upload images for your offers or use HTML to create your own custom entry forms in the full width of the new Facebook Page tab format.
In addition to our offer apps (Sweepstakes, Coupons, Group Deals, Rewards, etc.) full 810px width mode is also supported on our very popular HTML fan-gate tab app (http://woobox.com/statichtml).
Enjoy the new wide format, or if you want to keep using 520px width go right ahead.  We plan to continue to offer the option for 520px mode.  The smaller size still works in Facebook Page tabs and is a nice size for mobile offers and website embeds.
Check out this and more with your own Woobox account; and keep yourself up to date in the future by following @WooboxApp on Twitter and becoming a fan of our Facebook page.