Have you been thinking about running a giveaway on social media?
While some platforms have strict guidelines for any giveaway or contest on its network, Twitter keeps things a little more relaxed. If you've got a nice follower base — or you want to work on building one, a giveaway on Twitter may be just what the doctor ordered.
Make your next giveaway a smashing success by learning how to create a Twitter giveaway with these ten steps:
Let's dig into them now.
1. Setting Your Giveaway Goals
As with any other marketing activity, you need to set clear goals to help you plan the right giveaway, pick the perfect prize, and perfect your promotion.
So, what do you want to achieve by running a Twitter giveaway? Some goals that you can meet with this type of giveaway include:
Gaining awareness
Driving traffic to your website
Building your Twitter following
Increasing engagement on Twitter
Generating leads
Regardless of the goal you choose, get granular with it. Make it SMART:
Specific — determine whom you want to reach, why it's important, what you want to accomplish
Measurable — define what metrics you'll use to determine your success
Achievable — ensure that your goal is realistic and attainable
Relevant — ask yourself if your goal is in alignment broader business goals
Time-bound — set a realistic deadline
2. Choosing the Giveaway Prize(s)
One of the biggest mistakes people can make when it comes to a giveaway involves the prize; there's a tendency to go too big or too small. Offer up an Apple Watch or some sweet noise-canceling headphones, and people will come out of the woodwork to enter. A ton of people, including a lot of unqualified leads.
Do you know what that means? Wasted spend, friends, wasted spend.
The flip side of the coin? That's the cheap prize nobody in your target audience cares about. Sure, a $5 gift card to a famous coffee shop or online retailer is nice and fine. However, this type of prize isn't going to generate the interest that will help you meet a SMART goal.
Your first job when selecting a prize (or prizes) for a Twitter giveaway is to think about what is specific and relevant to your target audience.
Do you own a salon? Why not offer a full-service day at the salon as a prize? You could giveaway manicures or other less expensive services as second and third place prizes.
Maybe your target audience is made up of business travelers? Noise-canceling headphones or a portable, second monitor would be terrific options for this type of customer.
3. Determining Start & End Times
Your start and end dates and times are really up to you. However, you should keep a few things in mind.
Give people adequate time to hear about and respond to your giveaway. The bigger the prize, the more buzz you'll want to generate. Usually, a two-to-four week window is appropriate.
Avoid ending your promotion on a major holiday, especially if you want to use those last hours to drive up entries. People will generally not be on Twitter on Christmas Day. On Independence Day, people will be more focused on food, fun, and fireworks.
Ensure your end date is within your SMART goal deadline.
4. Setting Participation Rules for Twitter Giveaways
Now for the more tedious, but entirely necessary, part of your giveaway planning: defining your participation rules. Take the time to document your rules to educate your participants and make the process clear to anyone helping you administer the promotion.
When writing participation rules, be sure to include the following information:
Eligibility (who is eligible to participate?)
How to enter
Giveaway timelines, including winner announcement date
Winner selection process
Prizes
Disclosure of any sponsors
No purchase necessary*
Any other legalese that may be required
*Why do you have to state, "no purchase necessary"? If you require people to purchase something in order to participate, you could be setting up an illegal lottery. Yikes!
Rules specific to Twitter
Twitter's guidelines for giveaways are pretty simple. The most important things to remember are that your promotion must include:
A rule that states that anyone who uses multiple accounts to enter the giveaway will be ineligible.
A rule that clearly indicates that multiple entries in a single day will not be accepted. Twitter does not want giveaways and contests to jeopardize search quality. When you encourage people to retweet multiple times or share the same message multiple times, they could be automatically filtered out of Twitter search results.
5. Defining Entry Requirements and Bonus Entry Options
As you read above, you must incorprorate the entry process into your rules. Woobox makes this super easy.
With Woobox, you have a couple of options for allowing people to enter your Twitter giveaway:
Require people to follow you on Twitter to participate.
Collect participants' Twitter user name to enter.
Ask people to share or retweet a post.
Enter by using a specified hashtag
Additionally, Woobox helps you easily collect bonus entries. You can opt to allow Twitter shares as an optional, bonus entry method that offers end-users a second chance at winning.
6. Setting up the Giveaway
Here's where things start to really come together: setting up the giveaway. With Woobox, you have a quick and easy way to set up a Twitter giveaway.
If you've chosen to collect contest entries based on hashtag usage, you'll set up a UGC campaign. For all other contest entry methods, you'll use the sweepstakes campaign. Let's walk through the setup of both options.
Twitter Giveaway – No Hashtag Entry
For a giveaway promotion on Twitter that doesn't include a hashtag entry component, you will select the sweepstakes campaign type highlighted in the screenshot above.
First, you'll enter your campaign name. For demonstration purposes, we'll just calling this 'My Twitter Giveaway Hashtag Entry'. You, of course, will come up with something catchy and amazing as your giveaway title.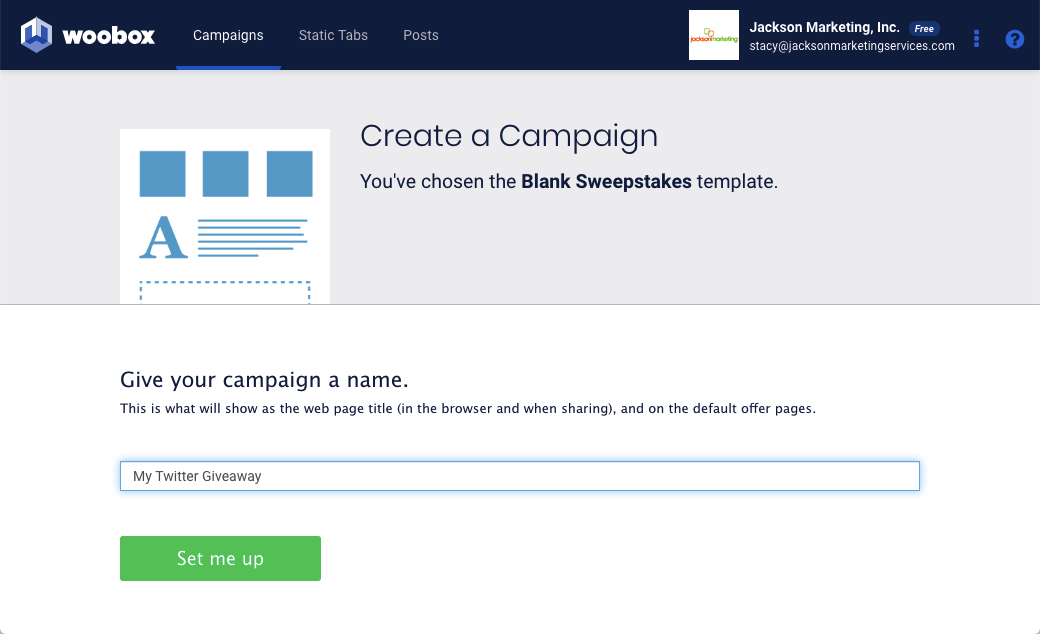 Next, enter your campaign settings. You can edit your title, add a description, and set entry dates. You can also determine if you want to limit entries or bonus entries based on link clicks.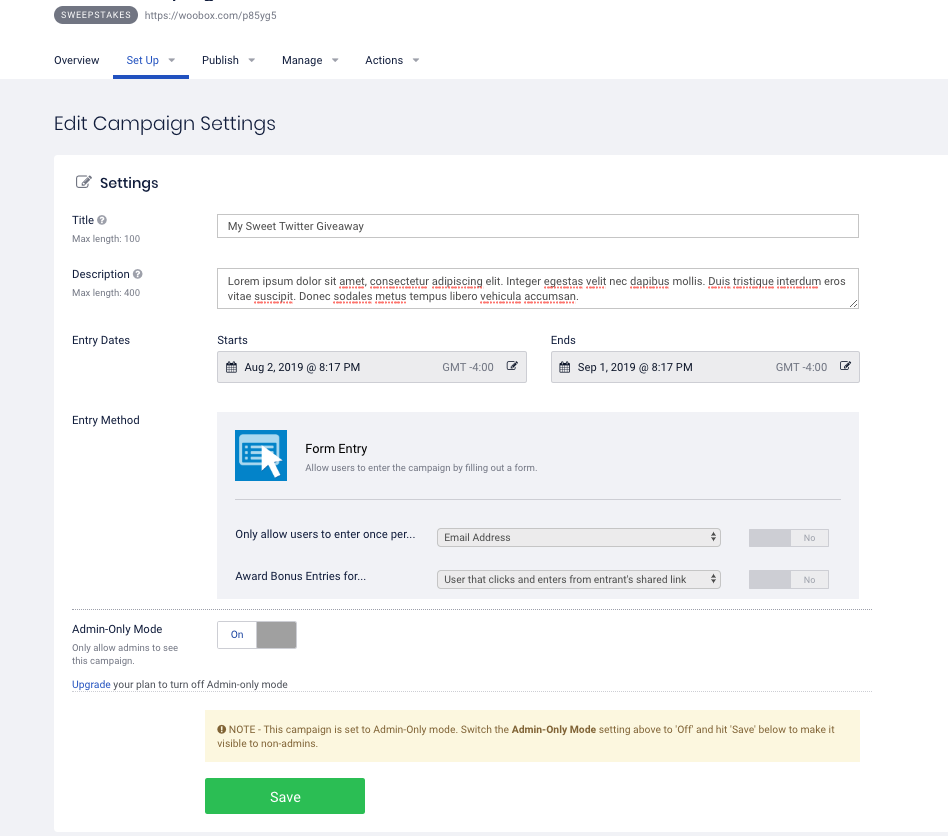 After saving, you can now customize your entry form and landing page by selecting Customize under the Set Up menu. From here, you can set up your Twitter-specific fields and prepare your landing page to dazzle entrants.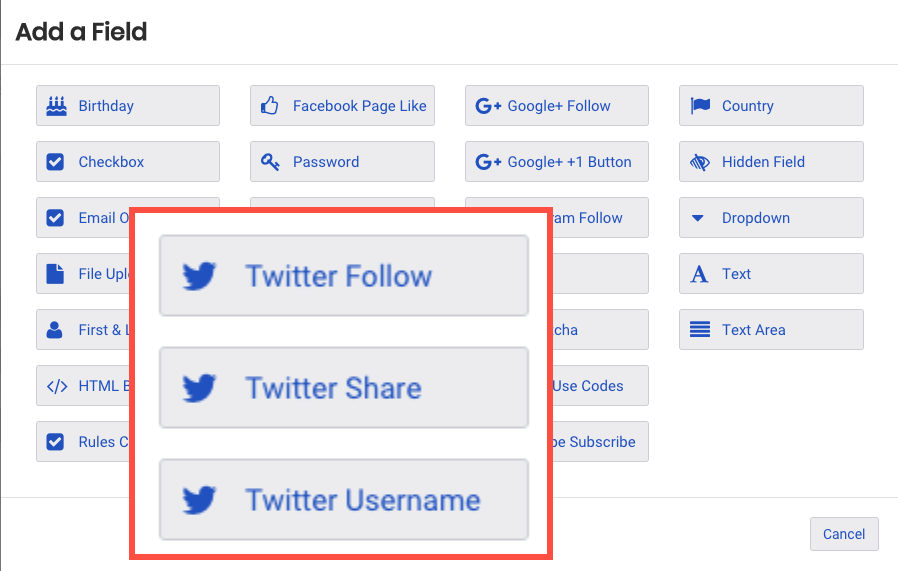 Notice your landing page shows a link to the official rules?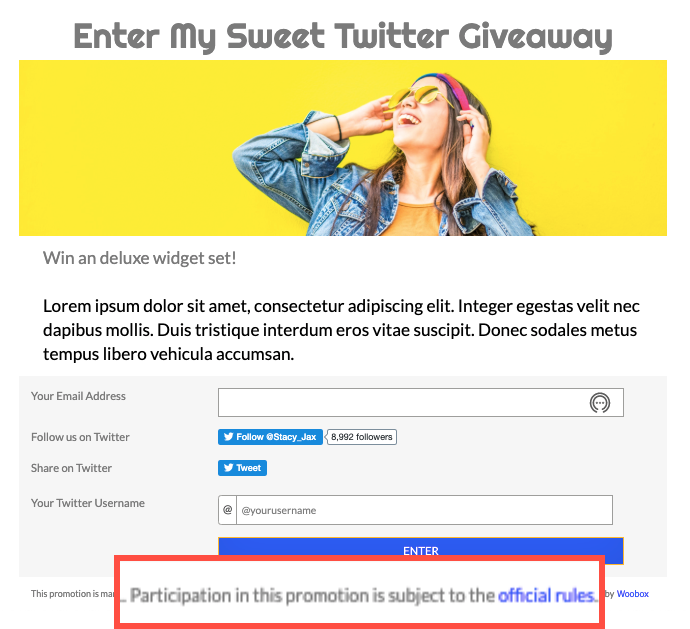 Don't forget to go back to the Set Up menu and select Advanced > Rules. From here, you have the option to enter a URL where your rules live, or you can create your rules within Woobox. That link on your landing page displays whatever you set up here under Rules.
Hashtag Entry Option
Want to use hashtags as a contest entry method? No problem with Woobox. To collect entries via this method, you can select the UGC campaign option indicated in the first screenshot in this section.
You'll run through most of the same setup steps with these additional steps.
With the UGC contest option, you can require people to fill out a form and do some of the other Twitter-related entry options mentioned above. (follow, submit user name, share). Or, you can keep this a straightforward hashtag campaign.

If you plan to use a form with your hashtag entry contest, turn off the Gallery option so voting doesn't appear on your campaign's landing page.

If you've opted for the form, make sure you setup your landing page and form options after clicking save.
7. Promoting the Giveaway
Yes! Time to promote your contest. Here are several great ways to get the word out to the right people:
Do a livestream on Facebook, Twitter, and YouTube announcing the Twitter giveaway a few days before the entry start date hits.
A few days before the start date, begin promoting the giveaway through social media posts. Incorporate text, images, and video to capture more attention. Consider incorporating a photo of the prize, if possible.
Send an email blast to your subscribers about the giveaway and prize(s).
Ask any influencers to potentially work with you to help promote.
Reach out to relevant blogs, Facebook groups, LinkedIn groups, and other appropriate online communities where your audience spends time. Ask group administrators (nicely!) if they can share your promotion with their audiences.
Partner with other companies to promote. See if the brand whose product your offering as a prize is willing to give your giveaway a shout-out on social.
8. Picking and Announcing The Winner(s)
When your entry period ends, use Woobox to pick your winner (or winners) at random from the list of entrants you collected.
Next, contact the winner to congratulate him or her and give details on how to collect the prize.
9. Following up with the Participants
That moment of congratulating the winner is satisfying. You've conducted a great giveaway and awarded the prize. Time to move on to other things.
Not so fast. What about everyone who entered but didn't win? They took time to participate in your giveaway, so you need to take the time to acknowledge their effort.
Send a tweet thanking everyone who participated. Maybe do a livestream video to show them how much you appreciated the excitement and enthusiasm they brought to the event. Send a personalized email with a special coupon code or a consolation prize if possible.
That small amount of effort can go a long way in getting new customers to buy and building loyalty with existing customers.
10. Tracking Your Campaign's Performance
Remember that SMART goal we talked about way back up on step 1? One of the criteria is to ensure it is measurable.
As you track your campaign performance, ensure the metrics you're monitoring help you understand if you've met your goal.
For example, if your goal is to grow your Twitter following, then record your current level of Twitter followers the day before the promotion begins. When the giveaway ends, look at your follower data. Has it increased? If so, what percentage of that increase can you tie back to the promotion? If you required people to follow you to enter, you'll have that data on hand.
Use the information gathered via Woobox plus any data from sources like Google Analytics or your marketing automation solution to understand other ways the campaign may have impacted your web presence. If you used utm parameters or shortened URLs, you can tie traffic back to your campaign.
Ready to Create Your Own Killer Twitter Giveaway?
You have an easy-to-follow formula for setting up your own killer Twitter giveaway with the ten steps we've reviewed in this post.
As a recap, these ten steps are the key to how to create a Twitter giveaway.
Set your giveaway goals
Select the right prize(s)
Determine start and end dates
Outline participation rules and guidelines
Define entry and bonus entry methods
Set up the giveaway using a tool like Woobox
Promote the giveaway
Pick and announce the winner
Follow up with participants
Track campaign performance