Are you interested in launching a YouTube giveaway and choosing the winner by on picking one or more comments? That's a great idea. This approach to giveaways gives you some key benefits:
Video SEO. Real comments are a signal to YouTube that your video engages visitors — ranking juice and a better YouTube presence!
Reaching Generation Z. Younger buyers love the granddaddy of all video platforms. Need to be where the 18-34-year-old demographic is? There is powerful potential in your YouTube channel.
Potential time-savings. You're probably already doing video marketing on YouTube. If that's the case, a YouTube contest is a no-brainer. Beef up one of your established marketing activities without adding a ton of extra work.
Woobox Free YouTube Random Comment Picker
A quick breakdown of the Woobox random comment picker for YouTube:
Fully automated and fair chance to randomly select a winner for your youtube giveaway.
See all the comments on your contest video or videos.
No YouTube video URL needed.
Easily scroll through your YouTube comments and videos
Filter duplicate users and duplicate comments
All good stuff, huh? However, you can mess up big time if you don't pay attention to the do's and don'ts of YouTube giveaways. Below, let's talk through how to engage your YouTube subscribers and viewers with a random winner giveaway — the right way — and how to use a free comment picker tool for picking winners.
Do & Don't: YouTube Promotional Giveaway Tips
The list below isn't an exhaustive list of what you should and shouldn't do with your giveaway on YouTube, but we mention some of the most important ones.
Do – Follow YouTube Rules & Policies Regarding Giveaways
Maybe you've heard whispers about YouTube rules for contests and giveaways but figured those were vicious rumors or an urban legend.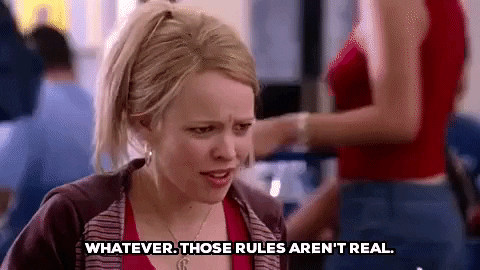 Nope. Some things on the internet are actually true, and these policies and guidelines are among them.
What to Know When You Create YouTube Giveaways
Here's a quick rundown of what you need to know regarding general rules and requirements, but you should still take time to consult the official policies and guidelines.
Accept the sole responsibility for the giveaway/contest
Comply with applicable local, state, and federal laws, rules, and regulations
Don't infringe upon (or encourage others to infringe upon) any third party's rights nor participate/encourage participation in unlawful activity
Don't ask participants to give all rights for or ownership of their entry to you
Allow people to enter the giveaway for free. (Don't create an illegal lottery.)
Don't use any third-party tools to manipulate metrics on the YouTube service, including numbers of views, likes, dislikes, or subscribers
Don't associate or affiliate YouTube with your contest without written permission from YouTube
YHow to Create Official Rules
The fun with rules doesn't end at those terms above. You also need to have your own official rules for your giveaway, and you must ensure you've addressed the following points.
You must publish Official Rules that:
You must conduct your giveaway and award prizes as outlined in your Official Rules
You are responsible for all aspects of administering your contest or giveaway
You must clearly state in your rules that YouTube is not a sponsor and require users to release YouTube from all liability related to your giveaway
You have to provide a legally-compliant privacy notice in your Official Rules along with an explanation of how you will use any personal data you collect during the giveaway
Don't – Make an Overly Complex Giveaway Entry Process
Chances are that the majority of your fans and people you want to reach are "lurkers" on social media. They aren't actively developing content, but they are consuming it. If you run a giveaway that requires people to create content or get overly involved on a platform, they will likely skip entering your contest.
Also, people hate giving up a lot of personal information online. If you're using an entry form for your contest, you're adding a barrier to entry — especially if your entry form is exceedingly long as measured against a person's perceived value of the prize.
Are you planning a giveaway on YouTube where you pick a random winner? Then a YouTube random comment picker tool is the way to go. This approach is fairly frictionless for YouTube users who already follow you and those whom you'd like to attract.
Do – Use an Eye-catching Message in the YouTube Video Thumbnail
Video thumbnails are often the unsung heroes of YouTube marketing in general. Are you giving your video thumbnails a little TLC and pizzazz to capture a YouTube user's attention?
Let's say you want to do a microphone giveaway. If someone were searching for microphone giveaways on YouTube, which search result do you think will grab his or her attention first? Probably the one that says "WIN THIS MIC" in huge letters. Even though the titles of each of these results mention the giveaway, a person will most likely be drawn to look at the thumbnail first.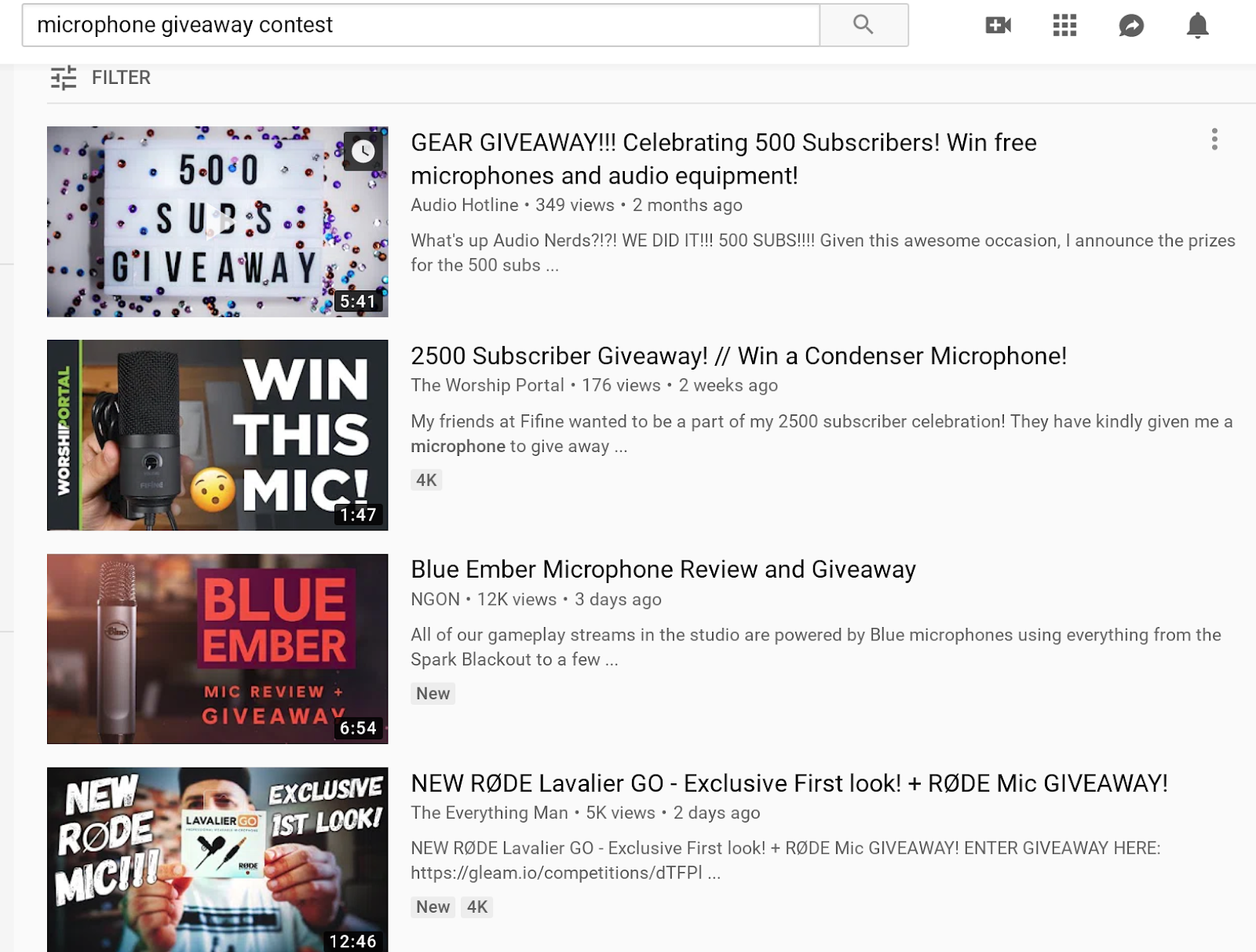 Don't – Overly Focus on Vanity Views & Subscribers
When you develop a YouTube giveaway, avoid looking at it as a means to get more views or drive up your subscriber count.
Here's why: If you're giving away an iPad or something insanely amazing, you'll get a ton of views and maybe even some subscribers. However, they may not be the right people.
Design your giveaways to engage your current audience or attract new, qualified audience members. Remember: views and subscribers don't necessarily turn into paying customers. Engaged viewers, on the other hand, see ongoing value in what you're producing and may convert into a subscriber or customer in the future.
YouTube Comment Picker: The Right Way to do Giveaways
All those tips sound pretty solid, right? Maybe you're convinced that a YouTube random comment picker is the way to go for your giveaway.
Here's an easy, YouTube-compliant way to do it: a random YouTube comment picker tool.
Woobox's YouTube Comment Picker is a fast and easy way to pick one or multiple winners from any videos with a connected YouTube account. You can also choose to use Woobox tools to create a website landing page with a unique URL and a share icon for each social media channel for your business.
Bonus: the Woobox YouTube Comment Picker allows you to choose from up to 100 comments for free. Not too shabby, right?
After you've connected your YouTube channel with Woobox, the system will walk you through the steps to export comments from YouTube and load them into Woobox. All you'll have to do is click the Pick a Winner button, and the platform randomly selects a winner from the comments.

Did the system select an entry that doesn't meet the giveaway rules? No problem, click the Unpick Winner button and then have Woobox make another random comment selection.
Build Subscribers & Loyalty
Your subscriber count isn't all that useful or impressive if the people don't come back on a routine basis to engage with your videos. With the right mix of quality content and giveaways, you can build greater audience loyalty for your YouTube channel. You don't have to go broke with giveaways either.
The best giveaways aren't necessarily based on high-ticket, super-flashy prizes. Instead, think about what your audience — your tribe — cares about and use that as the basis for your giveaway. If you do gardening videos, maybe you could giveaway flower bulbs or seeds for whatever plant you featured in your most recent video. Are you a sales trainer? Give away a book on selling or access to a free online course.
These giveaways don't have to break the bank, but they should build a bond with your brand.
Need Quicker Giveaways Without Using a YouTube Video URL?
Video marketing (YouTube specifically) is essential. Take steps to put together an engaging, YouTube-compliant giveaway that helps your channel stand apart in the crowd.
As a quick review, remember:
The Best YouTube Giveaways:

Do follow YouTube's guidelines.
Don't make the giveaway entry process too complicated.
Do build strong visual messaging into the YouTube video thumbnail.
Don't focus on giveaways primarily to gain views or subscribers.

Use a YouTube app solution like our Comment Picker to help you randomly pick winners.
Build subscriber loyalty over driving sheer views and subscriptions highs, which are vanity metric pitfalls if you lack brand awareness or call-to-action conversion.
Need Help With Your YouTube Giveaway?
Plan your strategy or get advice on selecting the best Woobox giveaway experiences by reaching out to our team. Woobox Support is available from 9 am to 5 pm PST, Monday through Friday at 1-360-450-5200 and support@woobox.com.