Woobox includes free features that can further your social media marketing strategy. For example, free accounts can instantly pick a random winner from Facebook comments and reactions, create a Poll Post on their Facebook business timeline, and install Facebook Tabs.
But how would you combine two free Woobox features into a powerful Facebook contest? Great question!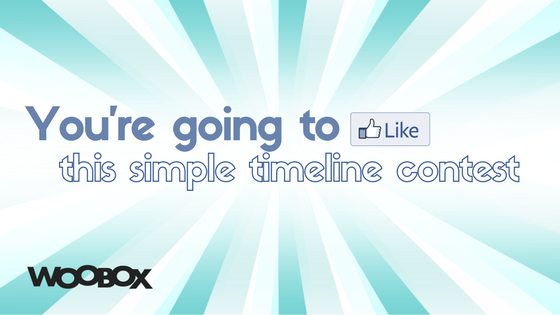 Getting Started with Your Contest
The first thing you'll want to do is create a Poll Post. Need some help with that? Check out this step-by-step Poll Post guide.
You created a poll and are ready to publish, great! Click the "Publish to timeline" check box and write your post message.
Keep in mind, this is literally the message that appears on your post. Think of it as a caption when you upload a photo. You can provide all necessary details here.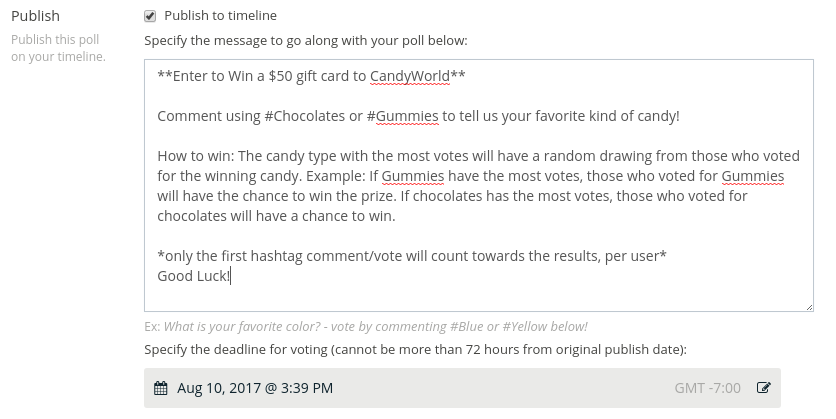 You'll see the post appear on your Facebook business page. Consider boosting the post through Facebook to further your reach. For the best results, target users who are likeliest to engage with your posts.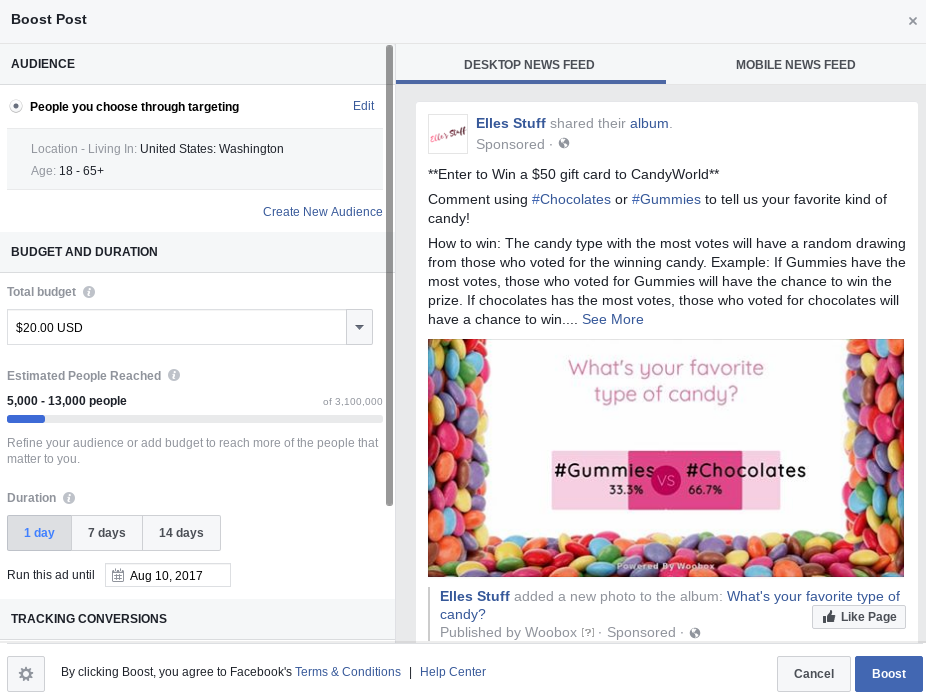 Even without a targeted post boost, you'll only need a few comments to get rolling. When a user leaves a comment, it typically shows up in other users' feeds, bringing more traffic into your contest post.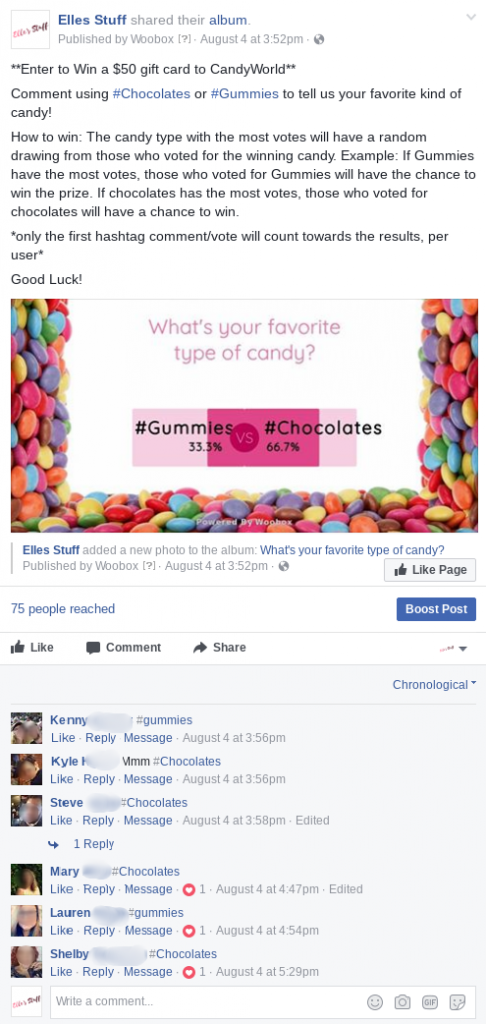 Instantly Pick a Winner
When you're ready to choose a winner, head over to the Posts section of your Woobox dashboard. There, you can find your post and pick the winner.
Do you need more details on how to pick-a-winner from a Facebook post? Click here for an easy-to-follow guide.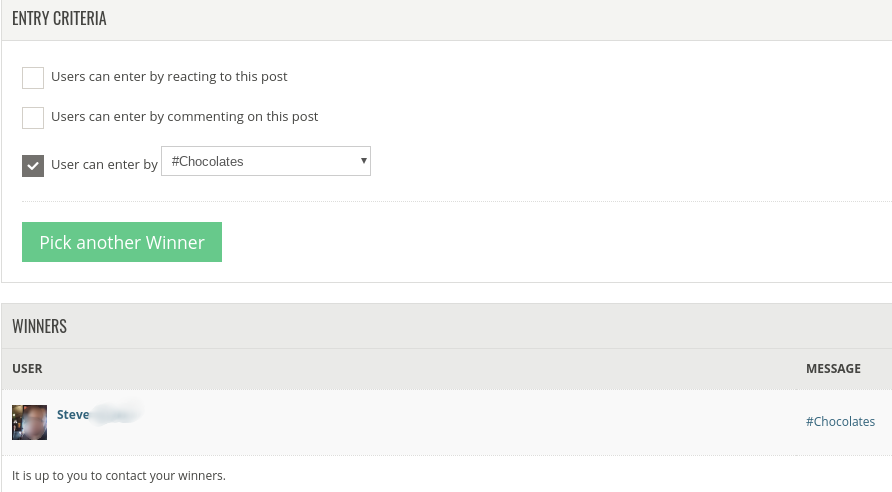 In the above example, we used the Poll Post as a way to manage the upfront odds for users to win. To gain a chance to win, users must be on the winning side of the poll option.
This method works with our Pick-A-Winner tool, which allows picking a winner from hashtags used in the comments section.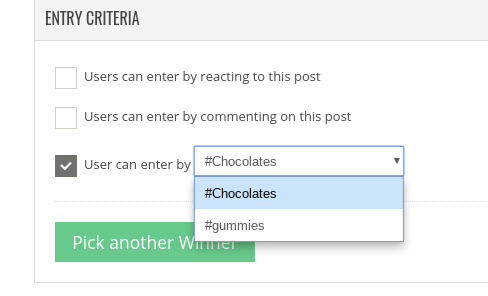 Hashtag entry requirements can inspire your most engaged customers. Engaged fans often ask friends to vote to secure an even better chance of being in the drawing to win. Also, Poll Posts update frequently, allowing users to see which poll result is in the lead and keeping everyone on the edges of their seats.
To stay on top of your active promotion, you can view what hashtags were used and how often in your post settings:

And see how many entrants used a specific Hashtag, as well as the ability to pick winners from a hashtag.

Free accounts do lack the Form builder tool for collecting entrant data. This feature is a paid service that's found in two apps: Promotional Campaign and Prize Claim. You can find the Promotional Campaign app under "Promotions" in the upper-left Woobox dashboard. The Prize Claim app is available once you've picked a winner from a post.
You can create a campaign to collect data for free while in admin-only mode, but to have entrants submit their data to you, that is when you would upgrade.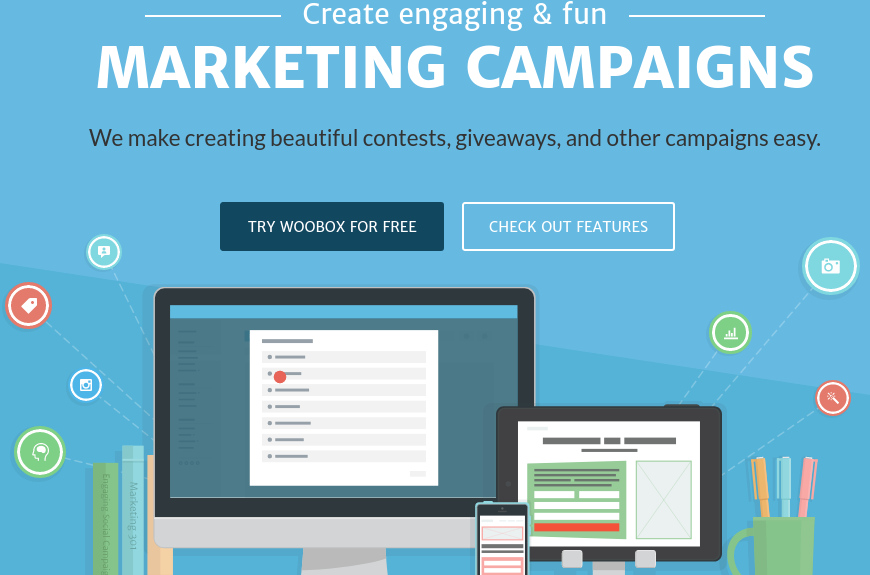 A Word on Upgrades
You do not have to upgrade to create a Poll post or to pick a winner from a Facebook post. However, using a free account does mean getting creative when announcing or contacting a winner. Without data from a form field, the most you'll know will come from comments or reactions on Facebook.
Here are some tips and tricks for reaching out to your winners over social media.
Note:
Facebook disallows businesses to automatically collect personal data from users without permission, this is why it's unavailable to you via an offer such as a Facebook post promotion.
Want to gather data directly from users after running a promotion on your timeline? Upgrading your Woobox account enables the Prize Claim tool.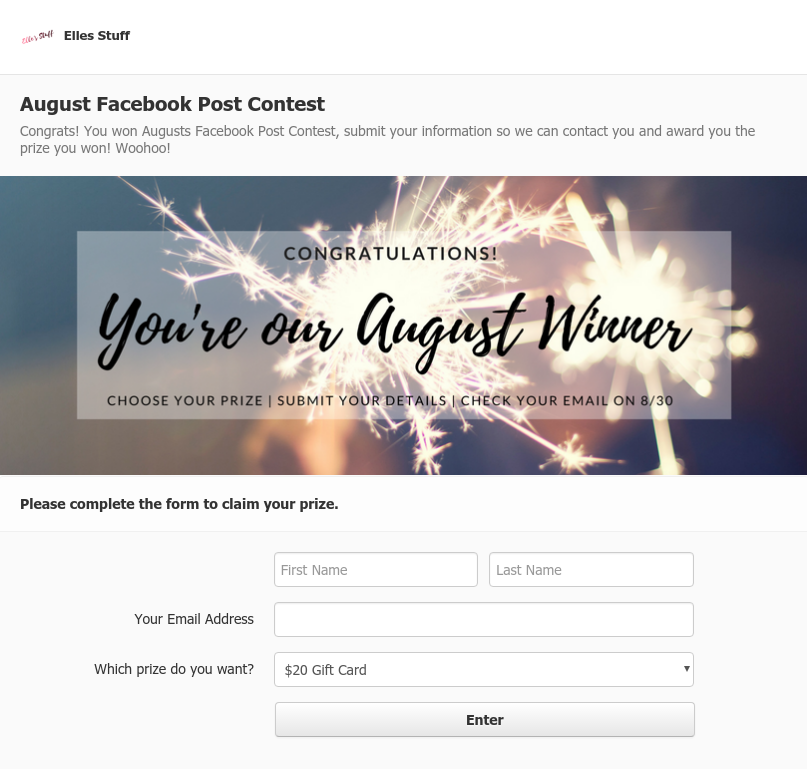 Login for free to set up a Poll Post now! No purchase necessary to run a Poll Post or FB timeline promotion. Have questions? Check out our forum or email your questions to support@woobox.com.