Imagine being able to create target audiences and promote your content to a very niche, highly relevant, vetted group of potential customers. Now stop imagining it, because Woobox has built an Audience Management tool that allows you to do just that! Create and save multiple target audiences to use for either broad or general targeting again and again.
We outlined some of the benefits in our blog post announcing our 4 exciting new ad tools, and you can read about more benefits of our Audience Management tool on our website. Today we will focus on how to set up target Audiences with Woobox.
Using ourselves as an initial example, you can see below how we created specific audiences to target our posts to, depending on the content of each post:
The first on the list is our blog post announcing our new ad tools. We chose to promote that post to our fans and to an audience we set up called "Marketing", which is a group we have defined as users who are likely to be interested in our marketing content.
Our second promoted post contained a link to our blog post that featured some of our customers best Super Bowl promotions. We chose to promote that post to our fans and to users who had recently visited our website. We'll go into detail about Website Remarketing in our blog post tomorrow. 
The third post in this example featured our announcement that we launched MailChimp integration. We chose to promote this post to an audience we created that included only users who expressed interest in MailChimp.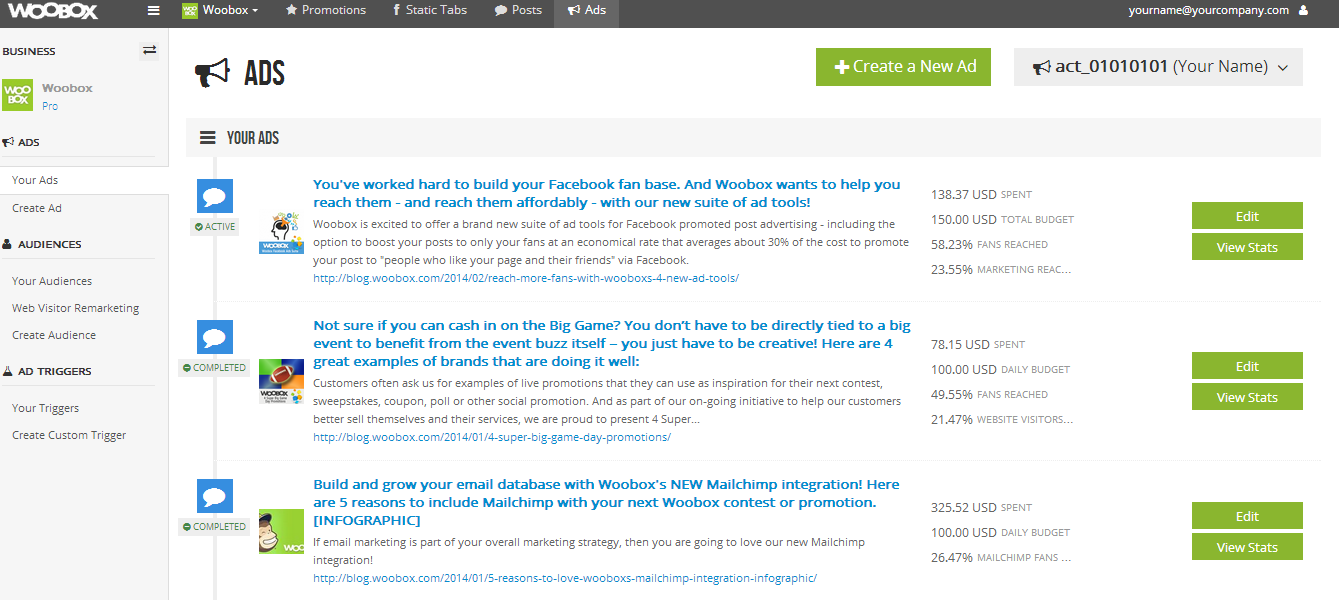 Now imagine the possibilities! Create an audience of shoe lovers to promote your shoe sale. Or create an audience for a specific age/gender, hobbies, business interest – the possibilities are endless. You can even create an audience that includes fans of your competitors.
Setting Up Your Target Audiences
First, login to your dashboard and click on the "Ads" tab at the top of the page. This will take you to the screenshot you see above, which is the landing page for all of your active and completed promoted posts. If you have no past or active promoted posts created within Woobox, then this page will be blank. So don't panic if you don't see anything in there just yet.
Once you have navigated to the Ads section, you will see the ad tools options on the left. Today we will focus on the "Your Audiences" and "Create An Audience" sections. Click on "Your Audiences" to see what the current default audiences are in your dashboard. It will probably look something like this:

This is where you will see your list of the target audiences that you create. The default audiences are "Fans" and "Friends of Fans", and in order to set up your own target audience, click on  "Create Audience" link: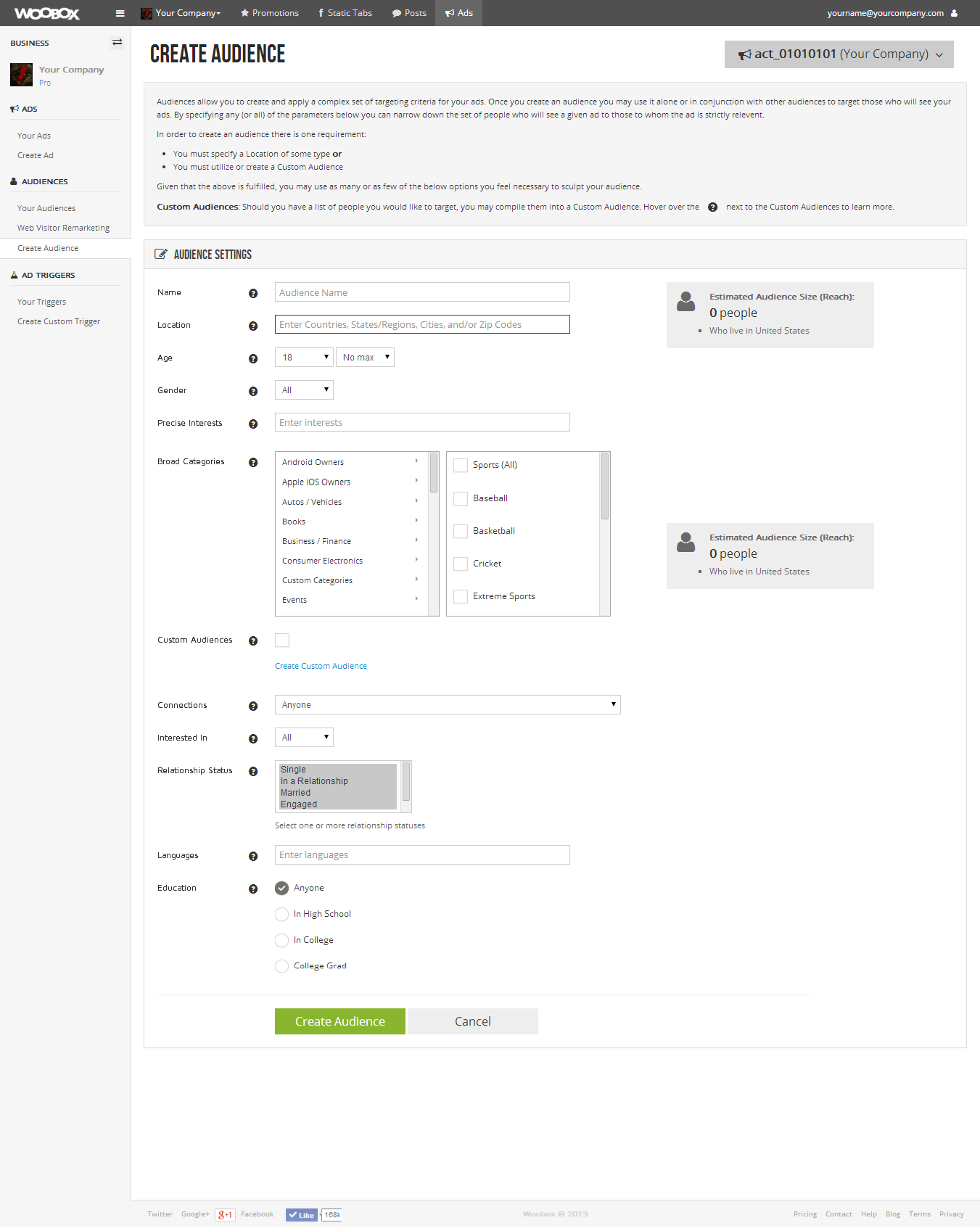 This page will probably look familiar to some of you if you have advertised with Facebook in the past, as the options and process is very similar – this is where you set up the parameters of your new target audience. The difference between setting up this audience with Woobox as opposed to within Facebook directly, however, is the ability to set up multiple targets and save and store them for future use. Let's walk through the options one by one:
The first step is to name your Audience. Be as specific as you need to be in order to be able to easily recognize who the target includes.
Set the Location. You can set the location based on country, state, city, or even zip code. Zip code targeting is perfect for coffee shops, restaurants, retail stores or entertainment venues who want to promote their content to a very limited geographic region.
Set Age and Gender restrictions. This tool can be used for all sorts of age targeting; from insurance companies who want to limit their message to retirees to retailers who only want to hit the hot 16-24 crowd.
Precise Interests vs. Broad Categories. Let's say you are a sporting goods retailer, and you want to target your promoted posts to just winter sports enthusiasts, you could enter precise interests such as skiing, snowboarding, snowshoeing, etc. OR you can select broad categories such as outdoor activities or sports. Its up to you to determine just how targeted you want each of your audiences to be. And remember, you can set up and save as many target audiences as you want, and can pick and choose – even combine them –  when you promote your post.
Set up a Custom Audience.  We'll go into Custom Audience creation in greater detail in a subsequent blog post, but this option allows you to add one more layer of filters to your promoted post target audience. This filter can be an email list that you upload, your website visitors, a list of past promotion participants, even a list of Facebook User IDs that you have collected from other sources, and more. When you select the custom audience you have created, it will add any users from that group that match the other criteria you have established in your target group (i.e. 2-4 above and 6-7 below).
The Connections section allows you to choose from users who are directly connected to your page, or broaden the scope to include friends of those that like your page.
The next few options are pretty straight-forward. You can narrow your audience further with Relationship Status, Language and Education.
Once you have completed filling out the information on your target audience, simply click on the "Create Audience" button at the bottom and they will be automatically added to you audience list:
Target Your Message to Your New Audience
Now that you have set up your new target audience, you can easily select that audience (or a combination of several audiences) when you set up your next promoted post. Click on "Create Ad" and select the offer or post you'd like to promote. This will take you to the "Create An Ad" page for that particular post or offer, where you can select the new audience you created, along with a start and end date, and the total amount you want to spend to promote that post. In this example, we chose to post a link on our Facebook page to our website that featured our really big winter sale, and we can choose to promote the post to Fans, Friends of Fans, or to our brand new target audience "Winter Sports Enthusiasts":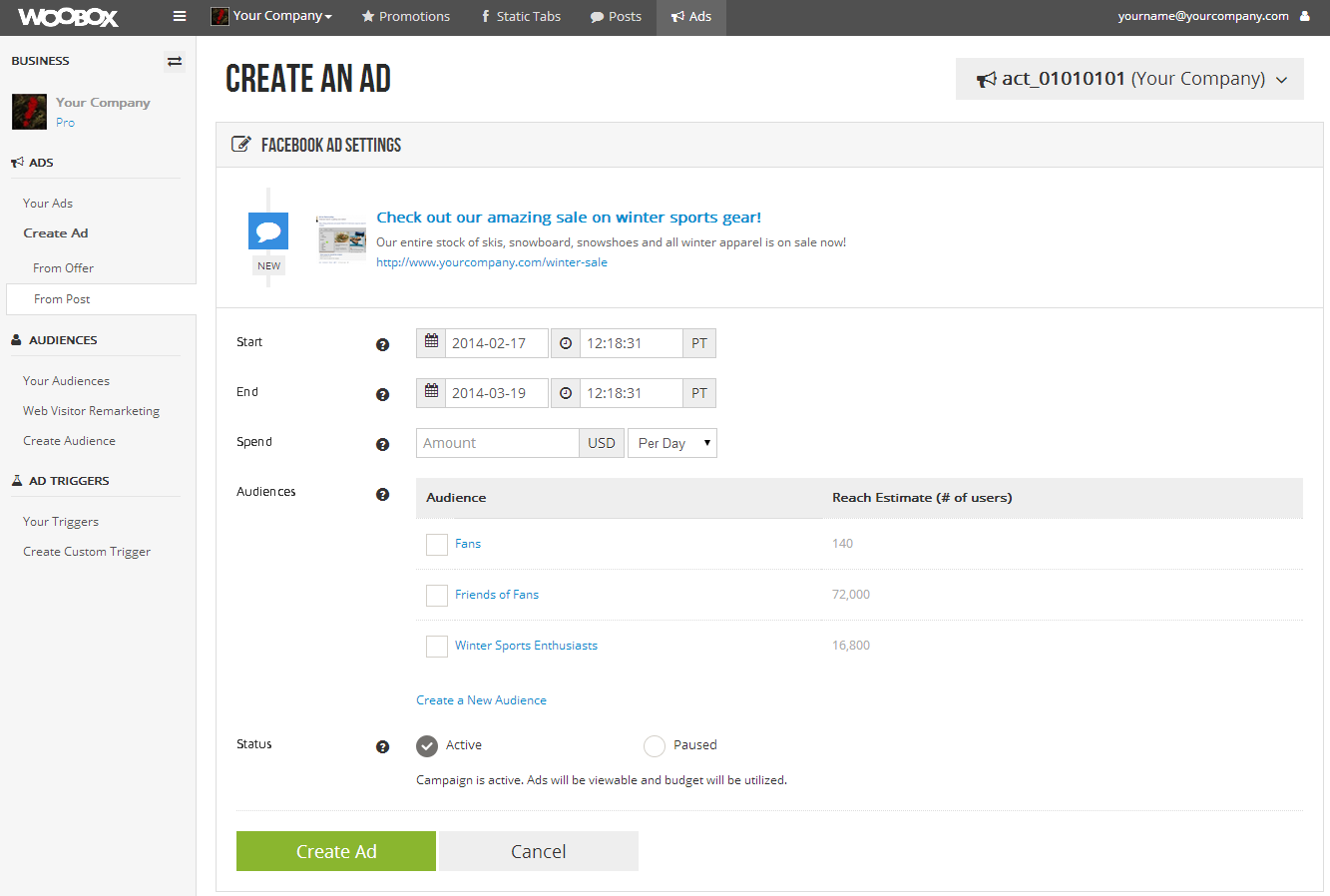 Then you simply click on  "Create Ad" button at the bottom, and you're done. The process becomes super simple once you have set up your target audiences, since they will be saved to your list and you don't have to go through any of the steps outlined to create the audience again – you simply select it from your list!
See How Your Campaign is Performing
Now that you have set up and are running your campaign, you can view the stats to see how one audience compares against another using the "View Stats" option in "Your Ads". You will easily discover who your top performing audiences are! This gives you the tools to craft an audience suited to your long term goals and reach them over and over again through new promoted posts, with just one click.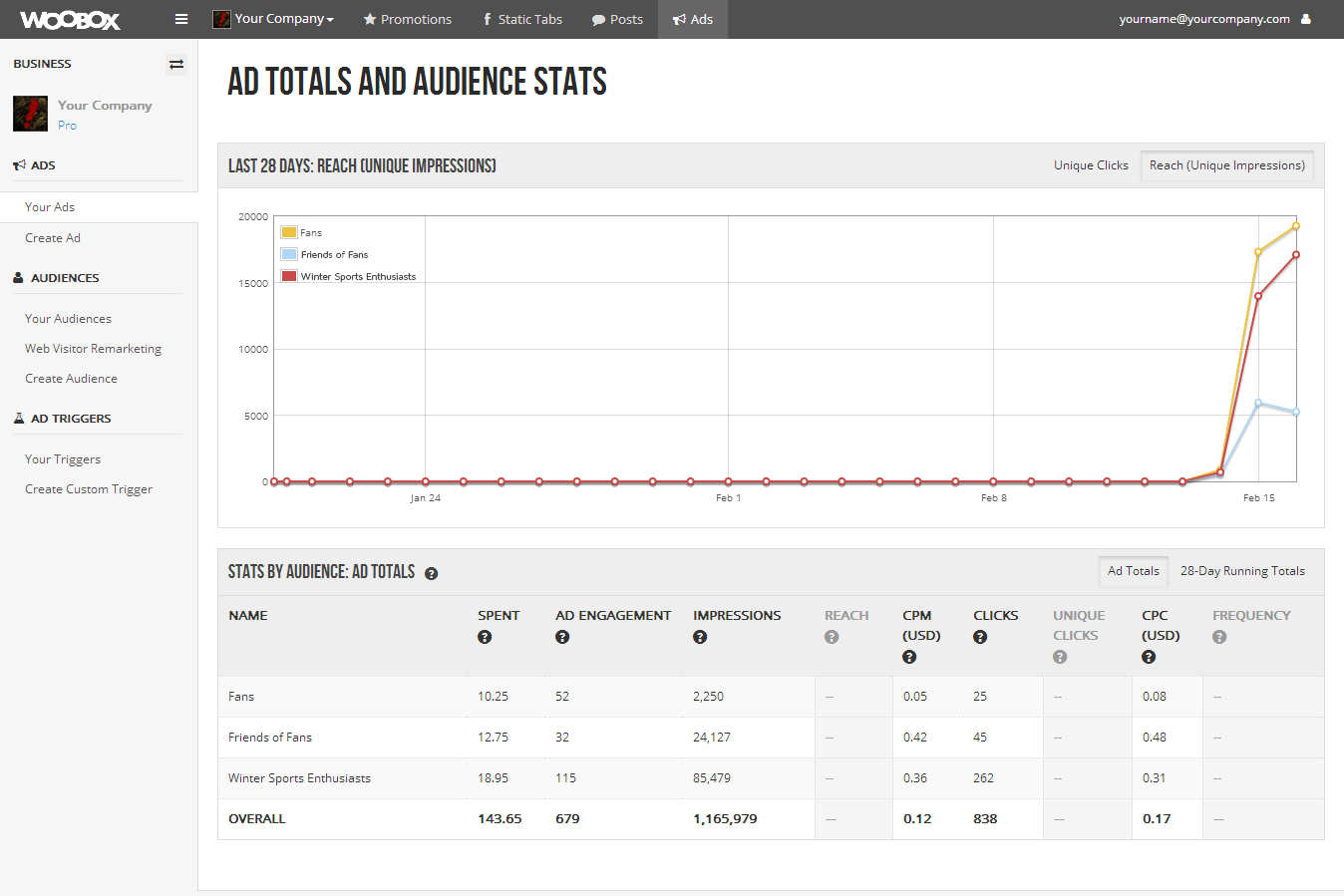 The power of this tool becomes evident the more target audiences you set up and the more you experiment with different combinations. Utilizing the stats will help you determine which audience segments result in the most engagement, and may even lead to new target audiences and dismissal of old ones. Happy targeting!
Next up, we will be covering Website Remarketing and how to create Custom Audiences to use as filters for your audiences.